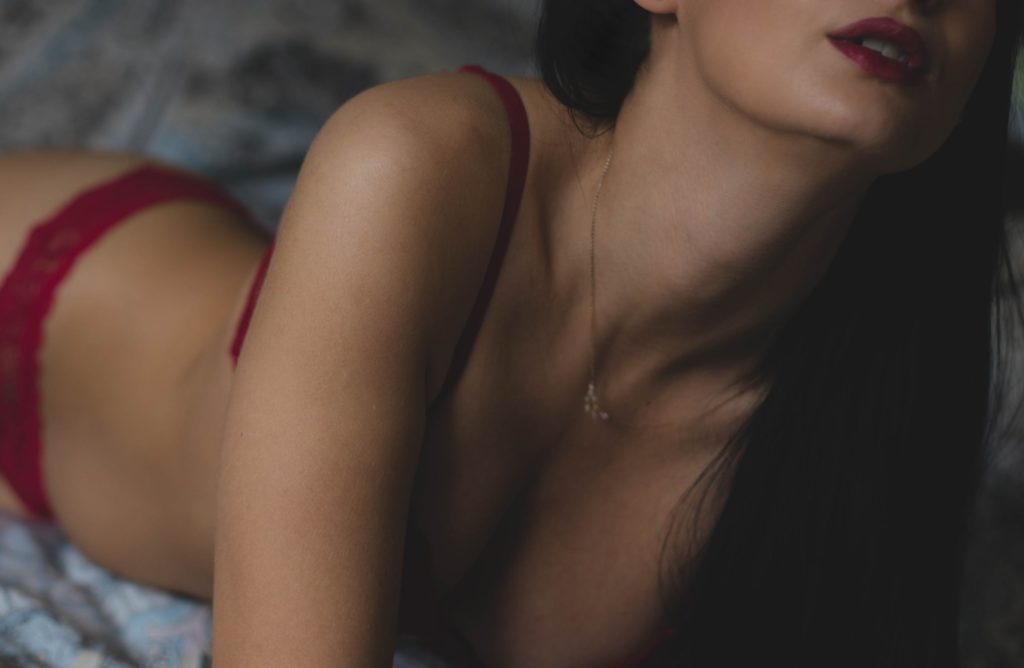 She walks in the door after a hard day's work. But it's not just any day, its Valentine's Day. Chocolates and roses are nice, but it doesn't really get the mood going. You hand her a wine and hand her another gift.
"Take a shower. I'm taking you to dinner…"
So what is in her Valentines Day gift? The most popular Valentine's Day gift, apart from the lame chocolates and flowers is lingerie.
Lingerie
What is "lingerie", and why is it so popular for Valentine's Day? Traditionally, lingerie was simply another word for underwear, but these days it has more the connotation of referring to sexy underwear, with lace and satin, and flattering a woman's curves. It excites her partner, with suggestions of what will be revealed later. It represents love, lust, and it is perfect for Valentine's Day.
Lingerie is the perfect Valentine's Day gift. Women can buy it for themselves to wear on Valentine's Day and surprise their partner with a suggestion of what the night will bring. Men can buy lingerie for their your loved one to show them how much they adore them. When she wears it, she feels sexy – even if no-one else can see her sexy lacy lingerie, it's in the back of her mind, and yours, that she is sexy! It gets her in the mood, and it gets you in the mood, too. In fact, what makes lingerie so sexy is often what it is covering and suggesting, not what is revealing.
There are so many styles and colours to choose from to suit all body shapes and sizes. Some lingerie, such as bodysuits or camisoles can be worn as a top, under a sheer top, or as underwear, to be revealed at a later time. So, what's the difference between a cami and a teddy? Here's a quick go-to guide for the most popular Valentine's Day lingerie gifts.
Camisole
Think singlet. It's worn on the torso, and has straps. Usually loose fitting, with decorative lace which may show on the cleavage. Also known as a cami for short.
Teddy
A teddy is like a one-piece swimming costume, except it is sheer, made from lace, or satin. They can be worn under other clothes, replacing bra and knickers.
Sets
A bra and panty set will have matching details, such as lace and embroidery. There are many styles and shapes when it comes to both bras and panties, so your options here will be endless. They can also be worn separately.
Suspenders and Stockings
When most people say stockings, they are actually referring to pantihose. For Valentines Day, you probably really do mean stockings. What's the difference? Pantihose are the ones that go from the toes all the way to the waist with built in crotch area. Stockings are the ones that finish in the thigh, usually with a strip of lace. Suspenders are an elastic waist band with adjustable straps that come down the front and back of each leg to attach to the stockings to help keep them up. Very sexy!
Panties
You would be amazed to know the different types of panties available. Even within the "regular" panty range, you can find bikini, boy leg, full brief, hipster, thong, G-string. For the more adventurous couples on Valentines Day, consider crotchless panties, or a G-string, which has a specially placed string of pearls, designed to stimulate the wearer with every movement of step. No batteries required!
For a bit of cheeky fun, how about some vibrating panties? There are many designs available in vibrating panties. Some are small and discreet and slip inside the lady's panties. They are operated by a small remote control, and others even have a smart phone app. Either partner can take control to turn it on, off, up or down during dinner. Some will vibrate to the sound of your lovers voice, so just speaking to them will send shivers to their toes. Maybe the dancefloor is your thing. Imagine literally feeling the vibrations of the music deep inside you! Most Smart phone operated vibrating panties can operate over the internet allowing for long distance Valentines Day fun!
Lingerie doesn't have to be tight and body hugging. Many pieces, including plus size lingerie sets are loose and flowing. Some are sheer and see through, while other designs are satin and more suggestive. Lace, pearls, fishnet, PVC, spandex – the options are endless.
Perhaps you want to be more adventurous and suggestive with your partner for Valentine's Day. She could be hiding an open cup camisole, some crotchless panties, or how about some vibrating panties? Play with the remote control in your pocket and see how entrée pans out. Maybe preload the Smart Phone app while she's in the shower and play with the settings over cocktails.
Make Valentine's Day a night to remember. Give her a gift that will make her feel good. Give her, or yourself, sexy lingerie.