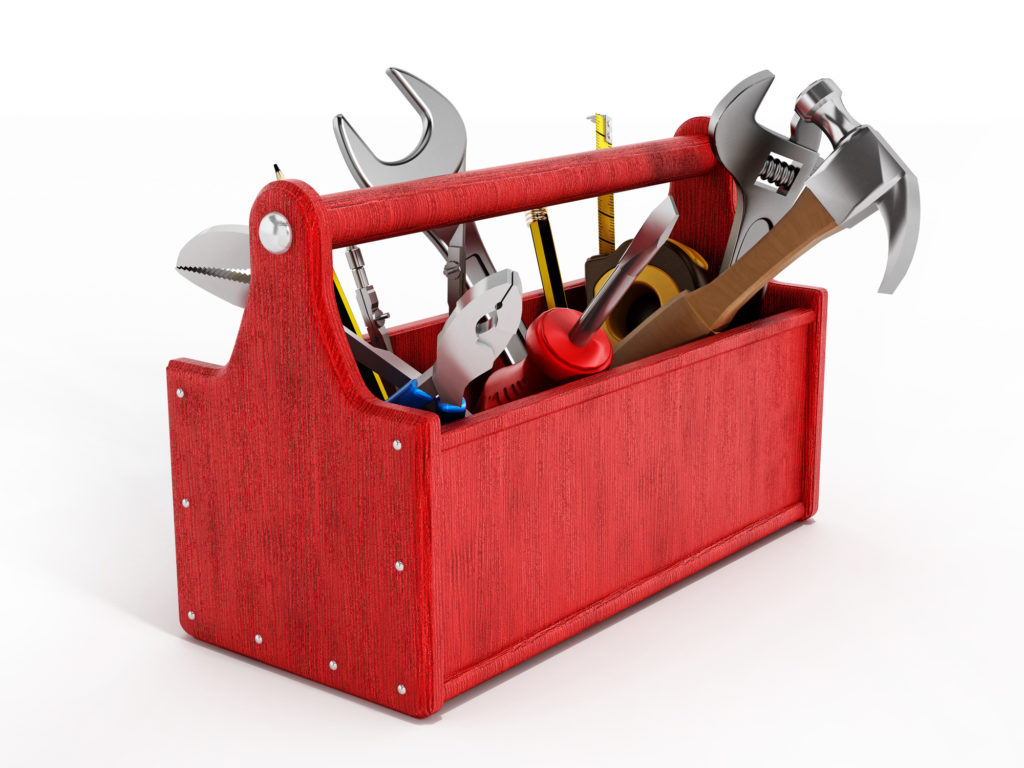 Every homeowner needs to have a basic tool kit for home repairs and DIY projects. Here you'll discover how to build a basic home toolkit.
Every year, American homeowners spend thousands to update and remodel their home. Even simple remodel projects, like new paint and refinished cabinetry, can cost between $10,000 and $45,000 on average.
Just because you live in a move-in-ready, furnished home and aren't planning a remodel any time soon, doesn't mean you won't have to play handyman from time to time.
While you could go out and buy the tools and supplies you need for each project as it comes up, it's a good idea to prepare ahead of time by assembling a basic home toolkit.
This kit can be packed with the most common items that homeowners use to spruce up or fix rooms throughout their home.
Keep reading to learn what you toolkit should include to help you stay prepared for any project.
Flashlight(s)
This is more than just an essential for your home toolkit. Every home should have at least one flashlight for every person living there.
If the power goes out, you blow a fuse, or you need to root around in a closet, behind heavy furniture, or outside at night, a flashlight is a must.
Having several different sized flashlights is a good idea as well. A small pen light is ideal for looking into tight spaces or behind furniture, while a larger flashlight provides greater coverage when you're working outdoors.
While you should add a flashlight to your actual home toolkit, you should also keep a few others elsewhere in your home. Try to place them in spots that will be easy to find even in the dark, just in case the power were to go out in the middle of the night.
Hammer
Perhaps the most common tool you'll use around your home is a hammer. From hanging pictures to assembling furniture and everything in between, a good, sturdy hammer is something you're sure to use often.
If you do a lot of handy work, such as repairing furniture or fixing other issues, you may want to consider adding two hammers to your home toolkit.
One should be a small, lightweight one for hammering small nails into walls or delicate furniture. A second, heavy-duty hammer is better suited for tough jobs.
Tape Measure
Another common tool that you'll find yourself constantly searching for is a tape measure.
You'll use it to figure out how large your furniture, picture frames, mirrors, and home appliances can be before you head to the store to shop for them. It'll come in handy for DIY projects and for repairs.
You can also use it for safety purposes, like figuring out how far from vents or heaters your furniture can be.
A tape measure is likely also the most common tool to get lost. Whether you use it and then leave it lying somewhere in your home or you take it with you to shop for new appliances and furniture, you may want to go ahead and add two of these to your home toolkit.
Level
If you plan to hang anything on your walls or complete home DIY projects like building furniture or installing countertops, you could do without this important tool. But the result will be lots of crooked pictures and sloping surfaces.
A level keeps you from having to judge on your own when something is straight. You can quickly and easily line up your home decor projects to get a better-looking, stress-free result.
Hanging a picture frame or other item might seem like a no-brainer. But learning to do it the right way is a great way to make sure that it looks great and is safely attached to the wall.
Straightedge
Like with a level, you could leave this tool out of your home toolkit. But if you purchase one, you certainly won't regret it.
A straightedge allows you to measure cuts in wood or angles on items you're hanging or arranging. This tool can even do double duty if you're also a craft enthusiast!
Utility Knife
Your home toolkit should be packed with items that help make home DIY projects easier. But there are also a few tools that can make everyday tasks simple as well. A utility knife is one of them.
Whether you're opening up packages or slicing cardboard for a school project, you'll get tons of use out of a utility knife.
To get the most use for your money, consider buying a knife with replaceable blades. That way when one becomes dull, you'll only need to replace the blade, rather than the entire unit.
Pliers
Pliers are another must for every home toolkit.
You can use them to yank old nails out of walls, pull staples from furniture, and more.
Like with your hammer, if you do a lot of home DIY projects, you may want to get a heavy-duty set as well as a smaller set for lighter projects that need a more delicate touch.
A Variety of Screwdrivers
If you've every assembled kids' toys on Christmas morning or assembled a piece of furniture, you already know that you'll need a screwdriver for your home toolkit. But this yet another tool you'll need multiple of.
Besides getting one flathead and one Phillips, you should also get several sizes.
If you're tight on space or want to make sure that you have every screwdriver you might need for various projects, you could get one with removable heads that can be changed depending on the size of the screws you're working with.
If anyone in your family wears eyeglasses, you should also get a tiny set for tightening screws that hold glasses together.
Electric Drill
When you're simply building a basic home toolkit, it may not be essential to own an entire set of power tools. After all, your toolkit is more likely to be used for the odd project around the home rather than a full-on home renovation.
But if you do enough DIY projects that you find yourself constantly getting out your screwdriver set, it may be worth adding an electric drill to your kit.
If you find yourself doing more and more projects, a good set of Home and Work Power Tools can save you tons of time and effort compared to basic tools.
Pencils
While they may seem more like a school supply item that something that belongs in a toolbox, you'd be surprised how often a good-old-fashioned pencil can come in handy.
When you're hanging something on a wall or drilling holes in furniture or other items, a pencil allows you to quickly and easily mark where you plan to cut, drill, or hammer, without leaving a permanent mark on your walls.
Spare Nails, Screws, Bolts, and Anchors
Even if a piece of furniture comes with the necessary nails and screws or you plan to just buy anchors as you need them, it's a good idea to keep a supply of backups.
The tiny nature of nails, screws, bolts, and anchors means that they are very, very easy to lose and misplace. You can also bend, crack, or otherwise damage them during installation.
Having extras on hand means not having to make the last minute, annoying run to the store for a replacement every time something goes wrong.
Command Strips and Hooks
There was a time when everytime you wanted to hang something on a wall, it required a nail or screw. If you lived in a rental property where you couldn't make holes in the wall, you wanted to hang something temporarily, or you had concrete walls, you were out of luck.
Now, command strips make it easy to hang everything from pictures to mirrors to hat hooks on the wall without damaging.
If you plan to add these to your home toolkit, make sure to get a range of sizes. When you go to hang something, always check to make sure that the Command strip you're using is rated for the weight of the item. Otherwise, it's likely to fall or could damage your wall.
Duck Tape
This may just be the most versatile item in your toolbox.
From holding items together to mending holes to helping you pack away items for a move, duck tape has an endless number of uses in and around your home.
Keep a roll or two on hand for tackling any emergencies that come your way.
The Right Container
You could toss all of the tools for your home toolkit in a drawer. But then you're left digging through the pile and carting each individual item around every time you're working on a project.
Choosing the right toolbox for your toolkit is just as important as choosing the right tools. You'll want something sturdy, but not too heavy that you can't easily cart it without you in and around your home.
It's also a good idea to choose something with compartments, drawers, or inserts. This makes it easier to separate your tools so that you won't have to dig through them to find the one you need.
Building Your Own Home Tool Kit
Now that you know what needs to go inside, it's time to start building your own home toolkit.
Tackling projects around your home on your own is a great way to save some money.
If you need a little extra helping figuring out how to get the job done, check out these awesome online resources.