Planning cocktail and dinner menus for a wedding reception can be incredibly difficult—choosing the wrong caterer or picking the wrong foods could leave your guests with grumbling stomachs and untouched plates. Here is one way that you can guarantee that everyone in attendance will be amazed by the food, including the pickiest eaters on your seating chart.
There are several specific things that wedding guests hate in a reception, like overly long speeches, cash bars, awkward seating plans, and of course a limited amount of food. When guests are expecting a big meal and receive small portions instead, they sit through your reception disappointed and hungry. Another common annoyance when it comes to the cuisine is when a dish that is supposed to be served hot is lukewarm or flat-out cold to the touch by the time it arrives at the table—they will be immediately disheartened when they taste a chilly spoonful of soup or cut into a cool chicken breast.
You don't have to worry about these problems happening at your wedding as long as you hire an innovative catering company to prepare all of the food for your reception. Start researching online to see what top wedding caterers are doing to solve these common pet-peeves for guests so that you can find a first-rate company for your upcoming nuptials. High-quality caterers will be able to offer different dining experiences other than a sit-down menu so that the portion sizes won't leave any guests wanting more. A well-known catering company like The Food Dudes offers trendy food stations for guests to get savory and sweet dishes whenever they want, however many times they feel like it. This clever option guarantees that the food will be nice and hot because it is freshly-prepared and served immediately.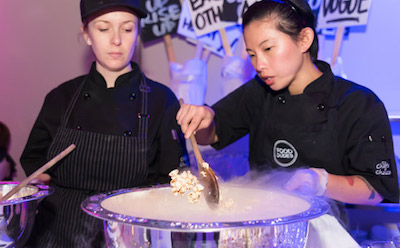 One of the biggest wedding trends at the moment iscreative food stations, ranging from small appetizers, hot dishes, decadent desserts and specific cultural cuisines. The Food Dudes offer a wide selection of food stations that cover every single one of those categories, all with gourmet ingredients and superb service. When it comes to savory dishes, you might want to set up stations for fun and flavourful meals like tacos, dim sum and poke bowls. When it comes to the sweeter selection, they have stations for ice cream cookie sandwiches, S'mores, funnel cakes, popcorn and candy — their unique catering style involves using liquid nitrogen to make ice cream, along with their caramel popcorn. Here is a brief list of other food stations that you will love and that your guests will appreciate:
Butcher Block
Rice Bowls
Noodle Bar
Sandwich Stand
Veg Bar
Salad Bar
Pasta/Risotto Bar
Grazing Stations
Raw Bar
These savory and sweet stations are an amazing solution to wedding guests' annoyance with limited portions and cold food. Your guests won't have to leave early when they have delicious, exciting and piping hot dishes to fill their grumbling stomachs—instead, they will want to stay at the reception and dance the night away.