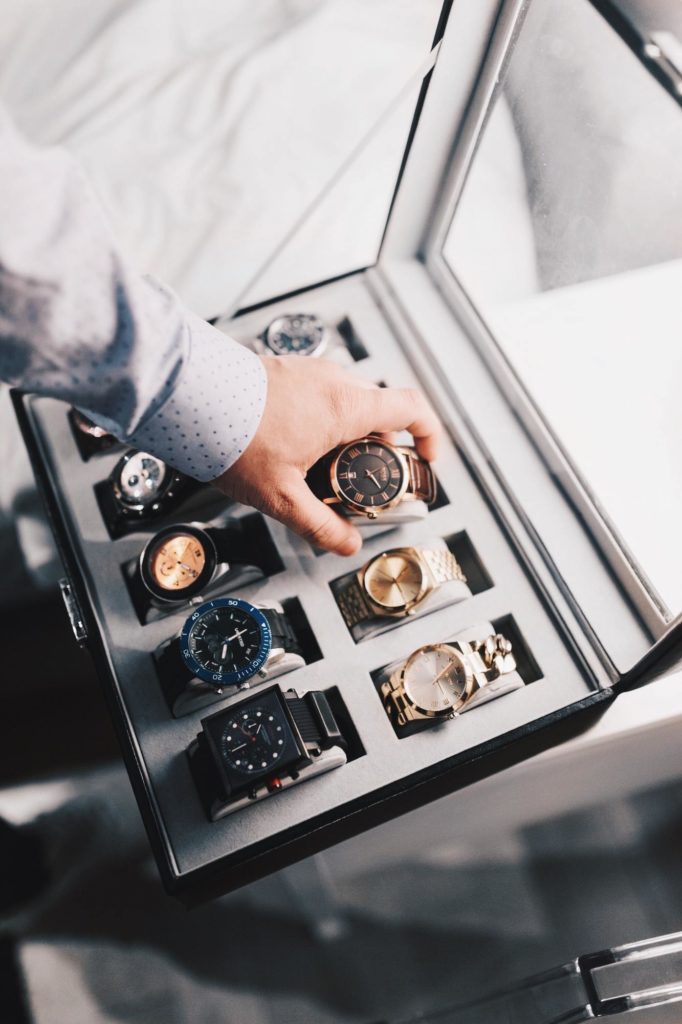 Finding a good watch is more than knowing what time it is. You want luxury and style, too. Here's a guide to finding men's watches to help you.
A man's watch tells you more than just the time.
Fashion experts agree that accessories can make or break an outfit. But for many of us living in the real world, we can't afford to spend thousands on a timepiece. That's where knowing what to look for can help make up the difference.
Below, we're taking a look at the things to look out for in the best men's watches.
Poetry in Motion
The "movement" of your watch is a matter of taste, so it pays to think about in advance.
Movement breaks down into three categories: quartz, automatic, and mechanical.
Quartz watches are those powered by a battery. They're reliable and accurate, though they're at the mercy of their battery life.
Automatic movements wind the watch through motion. So long as you're wearing your watch, it should keep time well. But if you leave your watch behind for a few days, you'll need to adjust it.
Mechanical movements are hand-wound, which stores potential energy that slowly converts into kinetic energy to drive the hands.
You don't need to overspend for a quality movement. Quartz is a reliable timekeeper and suits the modern approach to accessories – you won't always wear a watch with every outfit, after all.
Material World
Buying a watch in your budget doesn't mean you should skimp on materials.
Material quality will ultimately decide how your watch looks after a few years. Aim for at least steel grade 316L. That way, you don't run the risk of your watch rusting over time. Good steel also makes your watch more resistant to general wear-and-tear.
If you're opting for a leather band, go genuine. It's not as expensive as you think, and it'll be cheaper over time than having to get replacements when the original deteriorates.
Some materials will always command a higher cost. You can expect to pay more for higher-grade steel or gold elements, but if you want a watch that really stands out then they may be the only option.
Choose the Occasion
Watches make a versatile accessory – you can buy one for any occasion. But you need to choose the right one for the job to avoid it looking out of place.
When shopping for men's watches, consider what you'll wear with it. That'll help you decide the best fit for your situation.
If you're wearing it to dress up your everyday work outfit, you can go for something with a more rugged look, like leather. But if you want it for formal attire, a steel band could make a more confident statement.
Splashes of color besides the usual leather, steel, or gold could make a daring addition. But they also run the risk of looking out of place. If you want to play it safe and get something versatile, stick with traditional colors such as those you can view here.
One Size Fits You
A good look often comes down to proportions. A cheaper suit that fits well can out-perform a more expensive suit with a sloppy fit.
The same goes for men's watches. Choosing a watch that suits you isn't a matter of cost, it's a matter of smart shopping. But if you get it right, you'll look like you've spent the extra cash anyway.
We're not just talking about fitting the band to your wrist, though. You need to choose a watch that matches your proportions. Let's imagine you're a slight person with skinny wrists, for example. A bulky watch will look like a hand-me-down from someone else.
Keep a close eye on the dimensions of the watch you're purchasing, and measure your own wrist. With a little attention to detail, you can make a cheaper watch look like it was made just for you.
Brand Awareness
It's true that you can easily end up paying for the brand when you shop the big names. But plenty of household brands also offer affordable options for the everyday customer.
This comes down to a question of reliability. A cheaper brand isn't much of a money-saver if it breaks down frequently or needs replacing within a year.
By purchasing a known brand, you can expect certain levels of quality. You're also more likely to receive better customer service if something goes wrong. And the company is much less likely to disappear, leaving you with a warranty you can't enact.
Brands have the advantage of established manufacturing techniques. They've had thousands of iterations to get it right, so you're less likely to encounter a temperamental product.
Think of buying a watch like an investment. You should place your investment somewhere you trust, or you risk throwing money away.
Time for Returns
Fashion is a very personal thing, so what looks good on a webpage won't always look good on your wrist.
Shopping for men's watches should include shopping for a site with a good returns policy. If you're unsatisfied with your watch, you don't want to end up paying for the privilege.
A returns policy can give you some breathing room. That way, you can try on your watch, and even mull over it for a few days before you make your final decision.
Protect Your Investment
As with the returns policy, sometimes it's the intangibles that make a smart purchase. Warranty turns a risky gamble into a cherished accessory.
This is extra important if you intend to wear your watch every day. Your watch can take a beating when it meets desks and doorframes, to say nothing of dropping it. With warranty, you can ensure your luxury spend doesn't go to waste.
If you only wear your watch for special occasions, your warranty might seem less vital. But you're also more likely to spend more on it to get something stylish. So either way, a good warranty will help your peace of mind.
Choosing the Best Men's Watches
Choosing the best men's watches is a matter of balancing style and expense. With these tips, you can pick out the best of the bunch while also ensuring it's money well spent.
Want to know more about living well for less? Be sure to follow our blog.