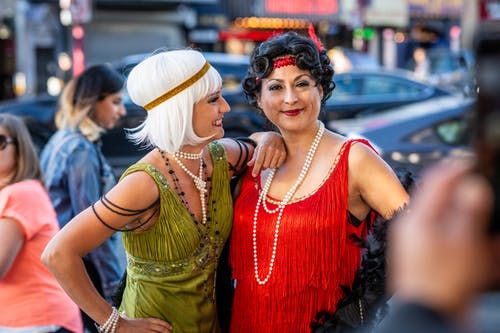 Everybody loves a costume party. Dressing up and pretending to be somebody famous was equally fun when we were kids as is today.
There are a couple of issues that might spoil the excitement before we arrive at our destination. The first is the decision about which costume to wear because there are so many ideas. Another is that, even if you choose a costume, you might realize that making it will make a serious dent on your bankroll.
So, what can you do? If you still wish to throw a theme party or simply attend a bash that involves costumes, here are some interesting ideas which you can try out all the while staying well under-budget.
From hippies to Star Wars, you wouldn't believe how easy it is to assemble authentic apparel without throwing money away on accessories and necessary paraphernalia.
Return of the Hippies
Saying that hippies are always trending is an understatement. The entire era is notoriously cemented in the minds of historians, movie producers, and fashion experts, simply because it was wild, baffling and provocative.
Thankfully, to look like you just got back from Woodstock, you will just need an old '70s T-shirt or a flowery shirt, a bandana and a pair of Teashade sunglasses. The more colours you can add to your getup, the better. Throw in some quirky jewellery back from high school that you can find in the house and, most importantly, let your hair down. The rest of your apparel is not important, you're a hippie!
Bond, James Bond
Secret agents never go out of fashion. The main ingredient of Bond's charm is the timeless elegance and levelheadedness with which he handles all dangers that arise wherever he goes. The final touch is his ability to smile at impending doom and brush it off with boyish playfulness.
A man in an impeccable suit with boyish charm? Yes, please.
If you want to feel like a 007 agent for a day (or night), find a suit. Make sure to learn the famous instructions for making a martini – or learn it yourself. With a martini in hand, you are ready to hit the casinos for a round of blackjack, Bond's favourite pastime. If you want to stay true to the character as much as possible, you can always try your hand at free online blackjack games and get that high-class, elegant side of secret agent's lifestyle.
Shake it, but don't stir!
Matrix Baby
This is yet another blast from the past…and the future. Wait, what?
The good thing about recreating Matrix at your home is that you literally don't need anything else except a black leather jacket/cloak, a red phone nearby and two drinks – one red and one blue. Fashion featured in the movie franchise is amazing because it involves a lot of black pieces of clothing that mesh well with everything in your wardrobe.
You can throw in a pair of Matrix glasses as well, but you can literally improvise with this accessory since the main point is that they are black. Oh, and some underground technobeat to announce your entrance.
4'20s are Roaring Again
Oh, my! Pour that champagne!
You are probably wondering why we have the Roaring 20s on our list since we're giving you a budget-friendly rundown of ideas for a blast. As a matter of fact, you would be surprised how easy is to organize a party that resembles the lavish ones the Fitzgeralds attended in the prime of their lives.
The first thing you'll need is glitter. And glittery decorations with more shiny decorations on top. Bust out your grandma's pears, curl up that hair, and draw a little birthmark above your lip. The main part is a flapper dress that you can order online or even find in some vintage stores. Don't forget the red lipstick!
Dancing Queen
This one is not a mere nod to Abba's hit from 1976. When we say dancing queen, we mean any character from all those dance movies that we grew up with. If you are a fan of the '80s, then you know that some of the greatest movies with dancing as the focal point were released precisely in that decade. From Flashdance, Dirty Dancing, and Fame to Hairspray and Footloose, your possibilities to recreate some of the iconic looks is endless.
If you're going with Baby from Dirty Dancing, a pink dress and a pair of heels will suffice. If, on the other hand, you're looking for something more disco-ish, you can go for disco globes and wild hair coupled with vibrant colours or a white suit straight from Saturday Night Live.