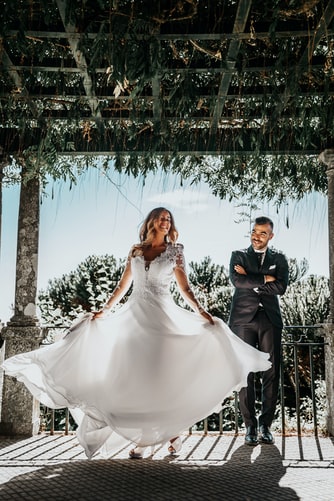 So, the time has finally come. That special moment that you've been waiting for, dreaming for, since what seems like the beginning of time. The wedding. Yep, you're finally getting hitched. But what seemed like so much fun a couple of months ago is now starting to feel a little less fun. In fact, not fun at all. Where are all the guests going to sit? How are you getting to the venue? Well, don't worry! We've got your back. Sit back, take a deep breath and let us tell you our three super-secret, top tips to having the perfect unique wedding.
1. Bring On the Boards
The boards, what does that mean? Well, the perfect place to start your wedding journey is on a mood board. We highly recommend using an online site such as Pinterest to start creating your vision. This is a great way to find unique ideas all the way from venue, to even the tiniest appliqués on the tablecloths. Not only can you create your own perfect vision, but you can also look at what others have made. Starting from scratch can feel incredibly overwhelming and daunting, so using other people's wedding boards can be the ideal place to start understanding themes and colours. This is the time to mix and match different styles, textures and, of course, unique ideas!
2. Take On Transport
Transport is often the one aspect of wedding planning that is overlooked. While cute flowers and crazy doughnut walls are definitely a must, it's important that you don't forget transport. Whether you're looking for classy and traditional, or bold and unique, the perfect type of transport is out there. Simply type in "wedding cars London" into your search bar, and you'll find plenty of professional services at an affordable price. Look for companies that provide quality cars, but who also go the extra mile, with punctual chauffeurs and friendly service.
3. Think Outside the Box
Planning the perfect unique wedding means finding that something special. We advise searching up and using others' ideas to help you find your own niche. Just remember that it doesn't have to be an entire theme, it could even be something small like having unique placemats or hosting a wedding-wide game. Some great smaller ideas include, flower crown making stations, photo booths, popcorn machines, photo placemats… However, if you've decided something slightly bigger and bolder is what you want, then that's great too. Talk to friends and family and get creative. Some of our personal picks are funfair and starry cinema. These are great if you want to get your guests fully involved and immersed in the wedding. Using the right companies and planning early can also make these very affordable options.
Planning an entire wedding can feel overwhelming. But just remember that you only get one! So, relax and don't feel pressured to do it all on your own. This is the perfect time to bond with family and get your friends involved!