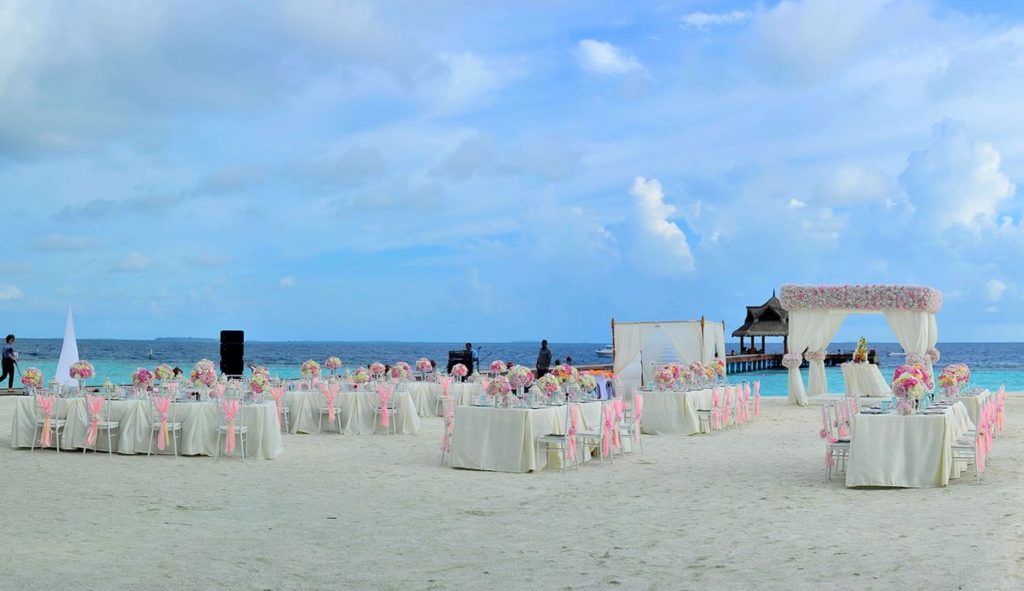 A significant amount of time is spent at the tables during the reception of your wedding. You will want to make sure that each table is welcoming, comfortable and beautifully decorated so that your guests will have a wonderful time and feel relaxed on the big day.
You and the guests at your wedding will spend a significant amount of time at the tables during the reception. With this in mind, it is vital that you create comfortable yet stylish tables so that your guests can relax and enjoy themselves. For consistency, it is important that the colour scheme used in each table is the same giving a fantastic look to the room.
These are the key areas you need to consider for each table.
Centrepieces
The centrepieces will be one of the first things that people notice when they enter. Ideally, this will establish your theme, add decoration and show your personality. It is important to remember that it should not take up too much space or be too tall – people need to see across the table and eat comfortably. A properly arranged flower or some light can never be a wrong choice.
Tablecloths
The tablecloths will also be very noticeable as they take up a large amount of space. As mentioned, these should be consistent with your theme for a professional look. There are all kinds of materials, patterns and colours to consider, but a simple white linen can also look beautiful, and you can add colour in different ways.
Napkins
One great way to add colour is with the napkins. In addition to deciding on a colour and material, you will need to consider how to present these. You can fold the napkins giving them various shapes like of a swan or a flower, or you can use napkin rings for a lavish feel.
Name card
People will be looking for their name card immediately, so be sure to put some thought and effort to create an attractive card that they will happily take home with them as a souvenir from your special day.
Chairs
In the preparation of everything, make sure you don't overlook the chairs. They should be comfortable to sit on, stylish and consistent with your theme. Wedding chair covers are the best way to do this, but you can also add sashes for a decorative touch.
Lights
If you do not have a light as a centrepiece, you may want to consider having a proper lighting on the table. In addition to being helpful once the sun goes down, lights are also an excellent way to make a table more intimate. Candles, LED tea lights or candles floating in water are just a few options that you can choose.
Decoration
Finally, if space permits you may want to add a few decorative touches. One of the easiest ways to do this is by scattering rose petals across the table. If you are not keen on using rose petals, you can also have scatter crystals, ribbon, feathers or something more personal.
Considering all these areas should result in giving your guests a welcoming, comfortable and stylish table, also making the overall function a memory to remember for a lifetime.