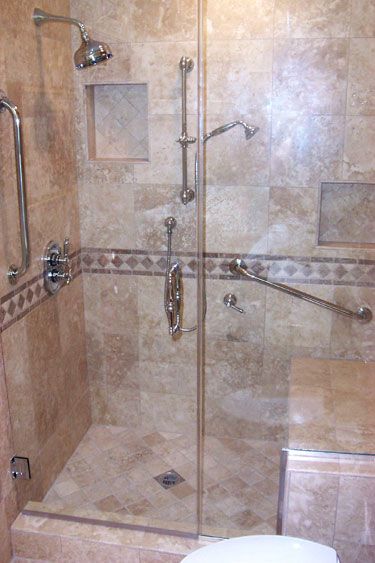 As we age, we can find it difficult to do the things that we used to do with ease. Whether it's going out to the shops, climbing the stairs or even showering it may be that things take longer, are more strenuous or we can't stand for as long as we used to be able to. Whichever ways you could be experiencing decreased mobility, one thing is for sure – there is something you can do about it.
What Are Some Areas That Could Need Renovating?
Throughout the house there are a number of places that could be in need of renovation for persons with decreased mobility. This isn't just due to ageing either – it could be due to injury or illnesses that decrease mobility as well. Some areas of the house where you might consider renovations include the bathroom, kitchen, front porch/step area and the bedroom. Throughout the house you might want to consider changing doorway flooring, in the case of carpet to tile or tile to carpet it can pose a bit of a bump or allow for fraying and cause a tripping hazard.
What Are Some Reno Options?
Renovation options can depend on what your budget is and what you're having done. Having a stair lift installed can be fairly inexpensive, having carpeting or tiling removed or amended could be quite inexpensive as well and be a really great place to start. You can install a walk in shower with seat to further make your home mobility friendly as well as having handles attached to existing baths and showers to add that extra layer of assistance and security.
Other renovation options can include having recessed lighting installed under cupboards to help illuminate counters and counter tops can really go a long way to helping visibility in the kitchen for doing things like writing, cooking, chopping and the like. Adding easy to use switches for lighting and larger doorknobs and handles throughout the house can likewise really help to make using lighting and various doors easier for potentially arthritic hands or decreased vision.
How To Get Started?
Luckily these days a lot of construction companies offer free, no obligation quotes and consultations, so it can be really useful to start the conversation and ring round to a few different companies that provide renovations in flooring, cabinets, lighting and shower seat installs and the like. Depending on your individual situation as well, you can get a timeline in mind of when you want all the renovations completed by and whether they need to all be done at once, helping you to plan ahead for them as well as make arrangements as to whether you might need to stay elsewhere while the renovations are being completed.
So there you have a couple of great suggestions on how to best prepare your home for yourself or your family members who may have experienced an illness, injury or ageing that is resulting in reduced mobility or vision. Have a look around today and see which construction companies in your area as well as Age UK and how they can help you get started.