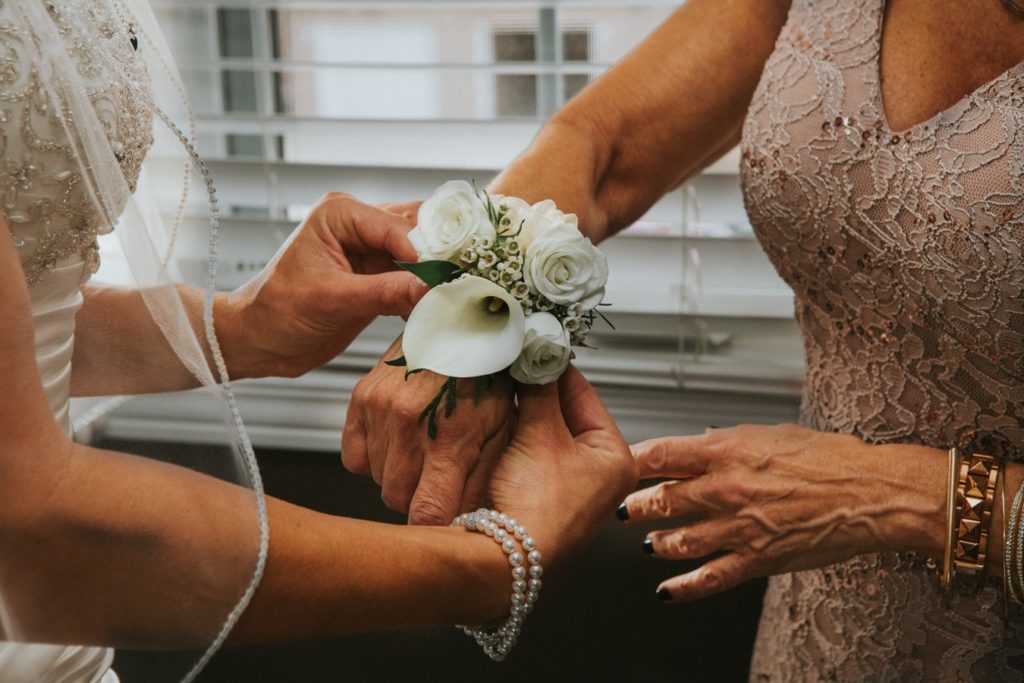 Whether you're the mother of the bride or groom, your child's wedding is one of the most important days of your life because it's one of the most important days of theirs. Choosing what to wear on this special day can feel like an overwhelming task.
To help make things simple, JJsHouse designer, Jessica, has a few quick and essential tips. "Consult with your son or daughter to see if they have any recommendations for colors or styles. It's important to consider what they want without losing your own personal sense of style. Choose a dress that caters to both your son's or daughter's vision and what looks and feels best on you."
Here are some of the biggest mother of the bride and groom dress trends to get you started.
Suit Style
Not everyone likes to get dressed up in fancy gowns. If you're a woman who prefers to wear pants, you're in luck. There are plenty of wedding worthy, super-elegant suit-style ensembles for you to choose from. Go for pants with a halter-style top or a knee-length skirt with a classy jacket.
Lace Fabric
Lace fabric is a timeless wedding dress option that never goes out of style. Lace can instantly make just about any dress look more elegant. When shopping for a dress with lace embellishments, keep the color scheme rich or neutral. Go for shades of beige, purple, gray or pale pink.
Asymmetrical Style
A dress with an asymmetrical cut is a fun option that can add a touch of extra personality to your look. Consider long skirts that have an ankle- or knee-length cut in front to show off a nice pair of shoes. Asymmetrical dresses come with a wide range of top styles, from V-neck to off-shoulder to long-sleeve and more.
Cascading Ruffles
A dress with cascading ruffles provides an understated way for you to add a bit of drama to your look. This style is like an elegant pleat for a skirt. A skirt with cascading ruffles goes well with a lace or other embellished top. Some dresses incorporate the ruffle into the top as well. There are lots of different styles to play with for this type of dress.
A-Line Style
The A-line style dress is one of the easiest to wear and is suitable for most body types. A fitted top bells out at the waist into a fun skirt. This cut is often used for classic cocktail dresses, but comes in more elegant variations as a wedding dress. It's a simple, comfortable option that doesn't require a whole lot of extra styling.
When choosing a dress as the mother of the bride or groom, have fun and choose a style that matches your personality and comfort level. Another piece of advice from Jessica is to "keep things simple in a classy way. While you want to look great for your son's or daughter's special day, you don't want to end up stealing the spotlight by choosing a dress that's too bold or sexy. Stick to classic colors and silhouettes that exude elegance."