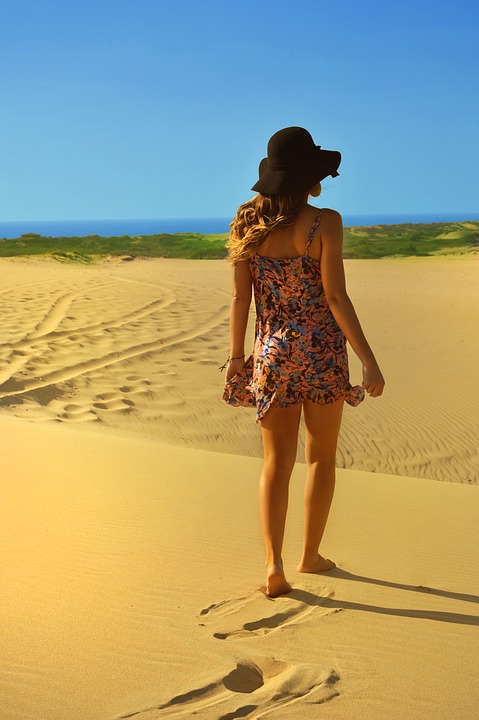 With summer around the corner, it is already time to think about your beach fashion this year because the trends are out and hitting the shops. To make sure that you are not missing out on any of the latest fashion must-haves, do go through the following and see if you can't find something to add to your collection so you are ready for the summer or any vacations you may have planned!
The Giant Hats
Hats have a particularly important job at the beach, which involves protecting the eyes and the face from sun damage. However, the trend in 2019 is going to take us much beyond the regular sized straw hat, to a place where wearing a giant or oversized hat is actually going to be fashionable on the beach.
If you feel that the ones by the luxury designer houses are a bit on the "too big" side of things, don't worry, because you are certainly not alone in thinking so. Nevertheless, more practical versions of those oversized hats are already available from manufacturers all over the US and Europe, while more will join in on the large hat trend soon.
Just pick one that you are comfortable with, as well as making sure that it complements the rest of the outfit perfectly. Sometimes, a giant hat can be made to work by contrasting it with the rest of the outfit, but use your sense of fashion to determine when and if that is a good idea. They come in all different sizes and are made from a variety of materials, so you will not have too much trouble finding the right one.
The Brazilian Bikini
The Brazilian bikini, or the Brazilian cut is a bold take on the traditional bikini, which covers less from the bottom, but isn't entirely in the thong territory either. Check out the selected collection of Brazilian bikinis and one-pieces on Orchid Boutique to know exactly what we are talking about here.
It's a sexy trend that's going to be a hit with couples and singles alike in 2019, so if you have plans to visit the beach with your significant other, or you plan to just roam the sands and seas on your lonesome, tantalizing onlookers with sensual beachwear, you now know what kind of bikini you need to make it happen for you.
Yellow is in Again
Yellow isn't generally a color that is associated with good clothing options, but what we are forgetting here is that yellow catches the very essence of summer itself.
The sun, the sand and the many yellow blooms of summer all point towards the color being iconic in its representation of the season. Therefore, it should come as no surprise that yellow is back this year as a major trend for summer beachwear.
While there are no limitations here, the advice would be to go for bright (not fluorescent) yellow, as long as you are sure that it's something you can carry off with panache on the beach.
For those of us who are a little past their prime, or would prefer not to be so bold and bright, golden single-pieces are a great option now, just as they always were.
What About White?
Retro has been making a comeback everywhere lately, not just in fashion, and the new trend of white beachwear is about as retro as it gets.
Do understand that any white swimwear or beachwear will be largely inspired by lingerie collections, and therefore, they need to be sensual in design, or it just won't work. What this means is that if you have a family vacation with the kids and in-laws in mind, this may not be the perfect choice. It could still be a cool experiment if you are out with friends or your partner though.
Leopard Prints
Every year, it's one animal print or the other, and this year it is time for the big cat to leave its prints on beachwear. Animal prints have such a universal appeal in clothing across all seasons, but when it comes to lingerie or beachwear, the wildness of the design shines through.
There is just something inherently sensual about anything in leopard print, giving so much approval to the overused but well-loved stereotype of feline beauty! Whatever your personal opinion on the matter, there is no doubt about the fact that the leopard prints on bikinis and single-pieces are a big trend this summer. Combine the leopard print with a Brazilian cut and you will have on your hands a recipe for instant attention on the beach from friends, family and strangers alike.
The choice is completely yours, but it is advised that you stay away from snakeskin print bikinis in metal, although they seem to have gained a bit of popularity in the recent years. Sensual as snakeskin prints might be on boots and bags, they may not work particularly well on the beach.
High-Cuts
If you feel like you are in good enough shape to pull off a bikini bottom with high-cut legs, then there is no reason on earth why you should not be making this particularly trendy choice.
Just in case you are not in perfect shape though, the high-cuts can still be an excellent choice; the thing is that the high-cut on the bottom creates an illusion of slimmer and longer legs, which is never a bad thing to have working for you on the beach!
As honorable mentions that did not make it onto this short list, polka dot prints, embroidery and belted beachwear deserve some attention from you as well. Polka dot prints on Brazilian cuts work particularly well, so they come recommended before the other two more comparatively riskier trends of summer beachwear in 2019. As always, don't forget to apply sunscreen before venturing out in the sun, and a great pair of shades will help you to stay protected and on trend at the same time.