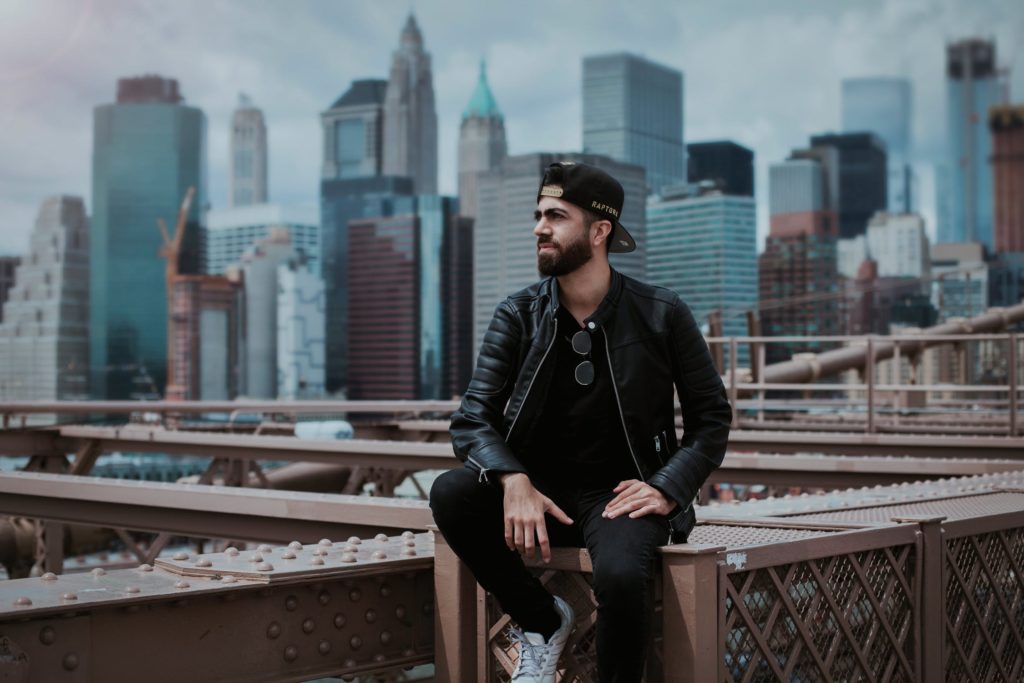 We all know that fashion and style is constantly changing and evolving; not just in women's fashion, but men's as well.
One of the most common items of clothing guys will wear, particularly in the cooler months, are men's casual jackets.
So what's trending right now in the world of men's jacket fashion? That's what we'll find out in this post.
#1 – The Classic Bomber Jacket
The bomber jacket is one piece of cool weather clothing that just never seems to date, at least not in concept. Each season some slightly new innovations and twists might be added to this stock piece of clothing, but the general look, feel and function of the bomber jacket has stood the test of time.
You really can't go wrong with a bomber jacket in your wardrobe, and one of the most popular colours for this type of jacket is black, as it looks casual, but smart and goes with just about everything else you could want to wear.
One of the iconic features of some bomber jackets is the hood, and these days many of the hoods are removable, so if you're heading out at night for some dinner in a nice restaurant, you can remove the hood and the jacket becomes more of a dinner jacket.
#2 – Denim Jackets
For a while there both denim jackets and denim shirts went out of favour, but in recent years the classic denim jacket for men has really made a huge comeback. And why not?
We all love denim jeans, and a decent denim jacket can look just as cool and be just as comfortable to wear as jeans are.
The really great thing about denim jackets is they come in so many different styles, so there's really something to choose from for just about every occasion. Another thing to note is that if you own a thin denim jacket, then it's even cool enough to wear – for fashion alone – during the warmer months of the year.
Denim jackets are not always blue either. They come in black, white, grey, red and a whole host of other fashionable colours as well as styles.
#3 – The Tracksuit Jacket
A track or tracksuit jacket doesn't have to be worn with matching track pants, although that obviously works well if you're heading out to play sport or do some exercise. But the jacket alone, depending on it's colour combination and style, can work really well with jeans or shorts and can be worn to numerous places and events, or just casually to keep warm and comfortable.
And that's the real selling point of track jackets, is that they're mega comfortable. Generally very lightweight and colourful, tracksuit jackets are built for comfort as well as sporty style. You're really spoilt for choice when choosing one too, as there are so many different types on the market today.
#4 – The Overcoat
In some ways the overcoat as a general concept will never go out of style, simply because it keeps you warm in cold weather, as well as helping to protect a suit or other formal and expensive clothing from the weather.
The awesome thing about overcoats is they come in so many different styles, colours and fabrics, from leather to cotton and everything in between.
Some resemble extra long suit jackets while many are a lot more casual in style and cut. They are great for both day wear and evening wear, and every male living in a cooler climate should have at least one overcoat of some description in his wardrobe.
#5 – Hoodie Or Hooded Jacket
Some bomber jackets have hoods, and so do plenty of other jacket styles.
The "hoodie" is your go to casual jacket for most occasions. Usually very warm, especially with the hood on, these jackets spell both casual and cool. They can be worn to a game of football or even out at night for a drink. It's a very common and versatile jacket that won't go out of style in concept.
Most guys probably have at least one hooded jacket (or a hooded bomber jacket or anorak) in their clothing collection, but if you don't, then you really need to get yourself a hoodie.