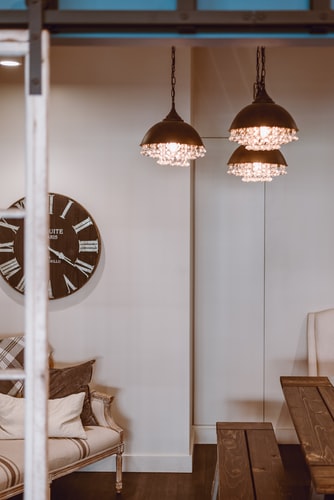 As the world we live in continues to extol the virtues of consumerism and commercialism, many of us are starting to hanker after something that looks and feels a little more real and individualised. Futuristic designs dominate new interior design looks as many seem driven to turn their homes into sets from sci-fi movies. Shabby chic offers a way of designing and decorating your home that celebrates the 'not quite perfect' and highlights the beauty of the effect that life has on us all. Shabby chic furniture not only makes a home look comfortable and inviting rather than sterile and cold, but also reminds us all that we have stories to tell. Join us as we ask what is shabby chic? And explain everything you need to know about this design trend.
Etymology
Let's start with the origins of the term shabby chic. The phrase came around during the 1980s when it was fashionable to fill homes with decadent furniture and create a look of opulence and wealth. Period pieces were being stuffed into living rooms and bedrooms and gleaming marble adorned hallways and staircases. As with many styles, this decadent design gave birth to a counterculture in which distressed, worn and tired furniture showcased chipped paint and imperfections – enter shabby chic!
Forms
Shabby chic really takes two forms. There are the items of furniture that are true antiques with peeling paint and signs of a life already lived that have not been restored. These pieces of furniture are celebrated – warts and all – for their age and signs of wear. Other items are made to look distressed and show signs of wear and tear through sanding and applying special glazes that result in a distressed look and feel.
One of the great things about the shabby chic look, is that you can create your own furniture with very little technical and artistic know-how – it is a very forgiving look to achieve. To start with, look for small pieces of furniture such as occasional tables. Strip any paint and varnish from them and then experiment with paints and finishes to create your own pieces of furniture. Likewise, those with a little sewing know-how can create cushion covers and curtains from reclaimed fabric or even fabric that you have in your own home that you are looking to repurpose.
Fabrics
When it comes to fabrics and patterns, shabby chic is all about florals and femininity. It is not surprising that the look favours natural fabrics such as linen and cotton as they celebrate the natural bounty of the earth.
Feel
Overall, shabby chic aims to produce a comfy and welcoming feel. Soft hues, floral patterns and pastel colours such as pinks and lavenders are key to creating the look.
Accessorise
Vintage pieces are a must when accessorising in a shabby chic room. Car boots and charity shops are a great place to dig around for pieces that will complete the look of a room.