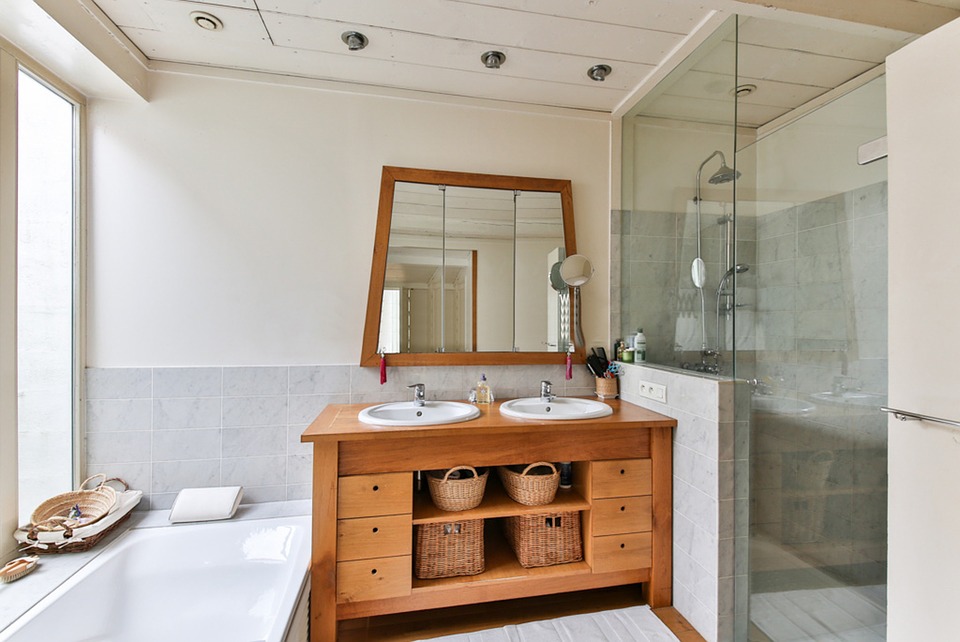 Interior design on a budget can be difficult but not impossible. Today, we're focusing on the bathroom, and how to style it when the purse strings are particularly tight…



Keep everything light
If you want a space that's bright and modern, keeping the colours you use very light, even all-white in some instances, will give a much more high-end feel to a space that only cost you a lick of paint. It will give the illusion of more space, and then it's up to you to add your personality via your theme colour for the space. Just be sure to remember the moods that different colours present. For example, touches of yellow and green will make a room feel fresh and vibrant, while lavender purple or sea blue will make you feel calmer. Think about how you use the space, and what you'd prefer to feel each day.



Use candlelight
When people think of candlelight in the bathroom, most think of them precariously placed around the rim of a bathtub. Candles can be a great mood setter, helping you to relax after a hard day, and as they come in so many shapes, sizes and scents, they're an inexpensive way of instantly adding a touch of luxury to your bathroom. However, they can also be slightly hazardous, so instead of simply placing them around your bath, think of creative ways you can make them look more effective whilst staying safe. You could make jam-jar lanterns, or pick up an old, wrought-iron chandelier from a car boot sale to hang up.



Look out for online deals
You'll always be able to get that high-end look for a cheaper price – you just have to know where to shop. Once you've been to a showroom and you've found the perfect tiles or suite, note down the names of the ranges and manufacturers, before shopping around online. There are dozens of online retailers who stock thousands of ranges from across the country, and they're more likely to sell them at a discounted rate as they don't have the same running costs. Aside from that, take advantage of introductory offers and sales, so you can get the finest quality bathroom furniture for much better prices.



Don't be afraid to upcycle
If you're not into the contemporary styles above, preferring the traditional look or country chic bathrooms that are all over Pinterest right now, your first port of call for furnishings should be charity shops. They're more likely to sell the retro, vintage units and cupboards that would look ideal in such a setting. Simply sand them down and repaint them before distressing the corners to get that antique design. Sideboards can be used as sink units, and turn the large boxes into storage for towels and linen with an upholstered lid for a window seat.
I hope this post has given you some style inspiration if you're on a tight budget. If you have any more money-saving tips, be sure to leave them below.