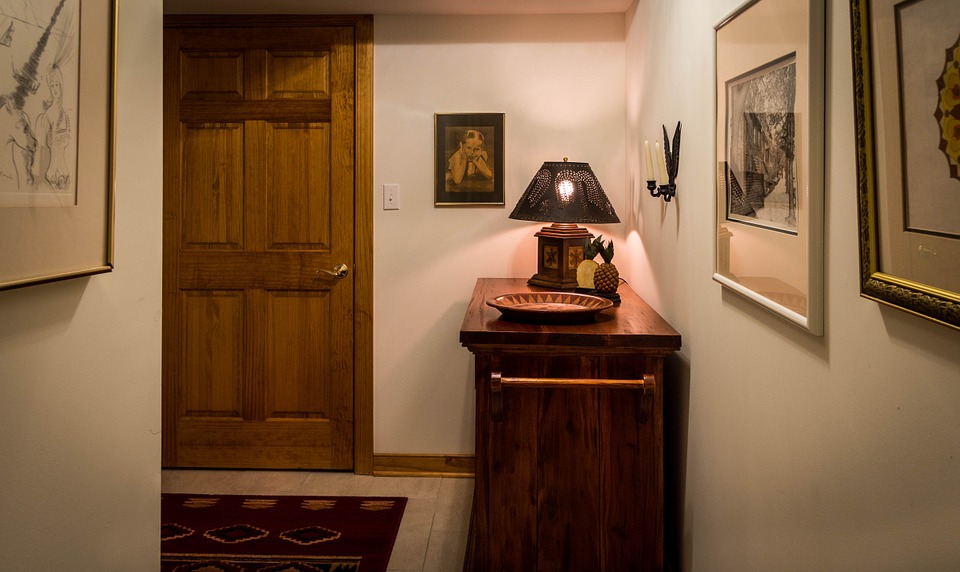 Your hallway is often the one room in the home that is forgotten about and neglected, which isn't ideal when it's also the first room people see when they enter your home. Whilst the hallway may seem like a room that is used very little, it's actually used the most, just for smaller periods of time, so it's important to create a space that reflects the rest of your home, welcomes people inside and also does what it needs to do. When working with a small hallway there are a few secret tips on how to really make the most of the space you have and create the illusion of a larger, spacious room.
Feature Walls
Many homeowners opt for a neutral colour scheme for the hallway as it's the most welcoming and calm. To make your hallway stand out a little more you can add a feature wall. Feature walls are a select wall that has been chosen for a brightly coloured wallpaper design to be applied too. By introducing a feature wall to your hallway, you are creating a beautiful focal point that will draw the eye the moment anyone enters. This will also help to create a sense of space, which is ideal in a smaller hall. Focus on patterns that are simplistic yet stylish, you don't want to combine too many colours together or add a pattern that is too busy for this type of décor.
Shelving Units
You often find that you're limited to floorspace with a small hallway, which can be a pain when it comes to including all of the essential storage features needed to accommodate your everyday items. By adding some stylish, wall shelving units and hooks you can create a space to hang items such as coats, umbrellas and other necessary items on the wall, saving much needed floor space. Shelving units help to keep the room clutter-free and open, so they're really beneficial within a smaller area. You could also use your shelving units for displaying homely items such as family photographs, candles, houseplants and so on. This will add a lovely touch of character to your hall and make it warm and welcoming too.
Secret Alcove
If your hallway is designed with a hidden alcove, or you have access to the underneath of your staircase, you should really make the most of that and utilise the space well. Alcoves are ideal for introducing a small bench or seating area to give you somewhere to sit when you need to put your shoes on or take them off. You also find that people use alcoves to create handy storage spaces, adding some stylish baskets or boxes to the area to store essential items such as hats and scarfs or a mini table with draws to keep your post, bills and so on. It's really good to utilise this space as it is an area that will otherwise go unnoticed and valuable space will be wasted.
Multi-Purpose Features
When you're selecting furniture pieces for a smaller room you can face a few challenges. This is where multi-purpose features are ideal. Investing in a beautiful bench with a comfy cushion would be perfect for providing a seating area in your hallway. This bench could also have interior storage that you could use for storing items such as shoes. This automatically keeps a number of items off your hallway floor and stored neatly away and out of sight. Items like this bench are perfect for utilising the space you have and making sure the area still feels spacious and open.
Mirror Magic
Small rooms need a mirror. They are a must have for any room that lacks space and you'll be surprised just how much of an impact a mirror can have. Mirrors are perfect for reflecting the light within the room and creating a sense of space. You also find that mirrors reflect the other parts of the room, which again can make it feel like there is more space available than there actually is.