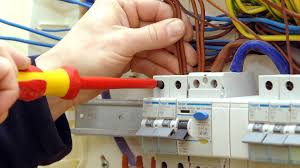 If your home or business is in need of an electrical upgrade it can be daunting to say the least to find the right contracting company to carry out the work. It's not one of those topics that is particularly exciting when it comes to home or business improvement but it can really help develop the longevity of either. These days, thanks in part to the seemingly booming economy in Australia things like home and business improvements have been huge and widely sought after. This article will highlight a great electrical contractor in Sydney, New Edge Group.
The Business
New Edge Group believe in providing quality services for affordable prices and helping you to navigate the services you require with ease. They have a dedicated team of professionals who can help you from the very moment you decide you need some electrical work done right up to the moment that it's completed and beyond. If you need any assistance throughout the process they are there to help and their professional team will take care of all your queries and provide quality suggestions to help you make the best decision about your home or business' electrical needs.
As a privately owned family run company, New Edge Group provide impeccable service to all clients regardless of their needs or the size of the job.
Services
New Edge Group provide fantastic services for those who employ their expertise. For example under electrical maintenance services they provide help desk facilities, 24 hour call out service, building maintenance contacts, maintenance on lighting for emergencies and exit lighting, repairs on the system and other types of maintenance such a testing and tagging and thermal scanning. If you choose their data and voice options you can choose Fibre optic, Cat V and more choices for the best solutions for your business.
Other Services
If electrical isn't what you are after, New Edge Group also provide air conditioning services to help you beat the Australian heat in the scorching summer months. From commercial sales and installation, repairs, design and maintenance you can be sure to get the best services available for your air conditioning needs from New Edge group. If this sounds like something you could benefit from as well you can use their website to get an online quote to keep things easy and simple for you and your business. If you're in need of HVAC services too, this is the company to go to.
Why Choose A Professional?
There's no secret that choosing a professional to complete your electrical and air conditioning work is integral to ensuring the job is done correctly to specification and safely. New Edge Group employ a team of experienced, educated professional installers that take all the guesswork out of installation and maintenance meaning you can rest easy knowing your electrical and air conditioning are in the hands of professionals who are trained to manage any eventuality.
So there you have a great introduction to New Edge Group in Sydney, working on electric and air conditioning installs for years with a large impressed client base under their belt. So next time you need these kinds of services, look no further!