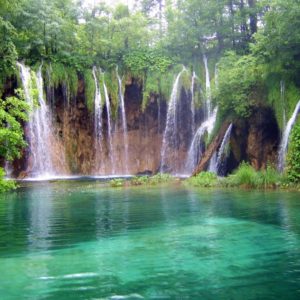 If you're looking for a great place to jet off to that works in both winter and summer, why not consider Croatia? While it's a bit better in summer if you want to do things such as sailing, it can be a great place to check out when the snow starts flying as well. If you've always been curious but never quite got around to heading to this unique Balkan country, there's never been a better time than now. Check out these top things you should make time for on any trip to Croatia, whatever the time of year.
Zagreb
The capital city of Croatia, Zagreb is a bustling metropolis with a gorgeous medieval town centre that is reminiscent of other similar cities like Prague or Vienna. Nestled in the northern hills of inland Croatia, Zagreb is home to some of the most unique sights to see and experiences to have. One such spot to check out is the Old Town Gate, now a shrine to the Virgin Mary. Known by its local name, Kamenita Vrata, this shrine is unique in the sense that the portrait of Mary within the shrine is said to be the only thing that survived a great fire in Zagreb in 1731. Regardless of religious affiliations, many people make wishes at the shrine as they're commonly said to come true.
Christmas Markets
If visiting Croatia in the winter months, particularly before Christmas, one thing you must make time for is the Zagreb Christmas markets. Voted the best in Europe over several years, Zagreb's Christmas markets are a flurry of brightly coloured lights reflected off the crisp white snow. With the smell of sausages cooking on the air and the warmth of the mulled wine on your tongue, this is easily one of the favourite activities to get even the coldest of grinches into the Christmas spirit. Be sure to check out the unique chalets offering up everything from decorations to food hampers, perfumes, candles, handicrafts and more.
Sailing
While you wouldn't necessarily want to do this in the winter time, sailing in Croatia is something to be marveled at. With so many islands to choose from during an island hopping adventure, and the whole of the Dalmatian Coast to explore by boat, one thing is for certain with a cruise around Croatia – you will not be bored, even for a second. For a truly unique experience, consider renting out an Air Bnb on one of the islands – the perfect place to get away from it all in a period cottage built of stone with shaded courtyards welcoming sea breezes.
National Parks
If you're a lover of national parks, Croatia is the place for you. One of the most popular is the Plitvice Lakes National Park, inland Croatia, near to the Bosnian border. This park with all of its turquoise, interlinked lakes and waterfalls is hugely popular amongst travellers and tourists for its sheer beauty. Take a dip in the pools or just kick back on the shores and catch some inland Croatian sun.
So if you want a destination that has something for everyone year round, consider Croatia. With so many beautiful natural wonders, it's easy to see why so many people flock to this coastal country for sun, sea, sand and history.