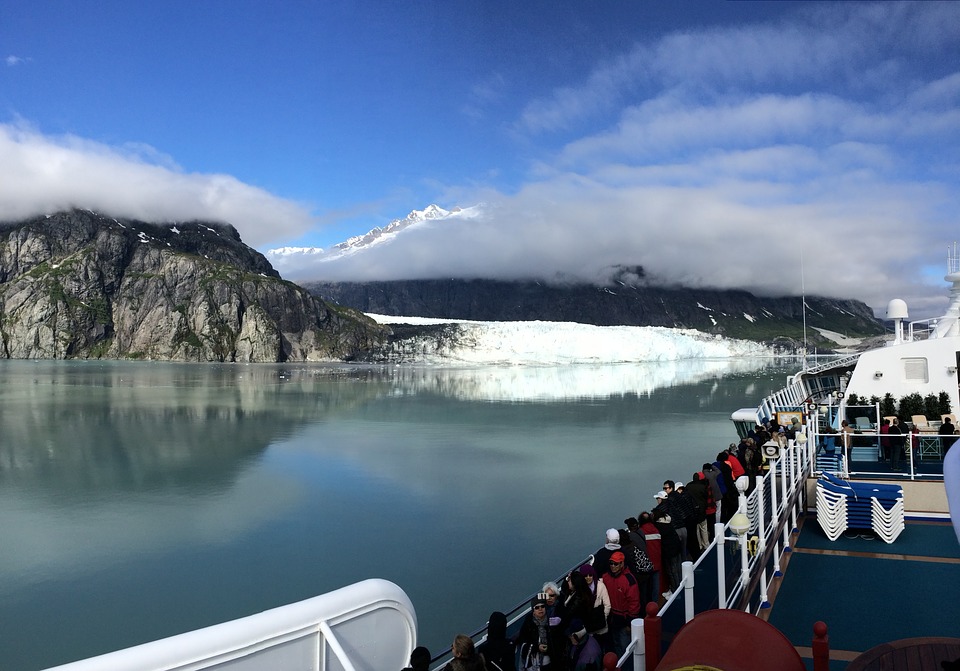 Alaska is a wilderness that will make anyone be wowed by its wonders and longing to see more of its landscapes. You can marvel at the mountains, be fascinated by the vast amount of forestry, gaze with amazement at the various wildlife on land or sea and the list goes on. How can this abode of beauty be best experienced? One way is a cruise. With a sparse amount of residents populating this huge U.S. state, cruising is the most hassle-free and tranquil way of viewing the sites of Alaska. Here are some of the things that you could view in just a few days as you experience an Alaskan cruise.
Mendenhall Glacier
Jump off board for just a short 3km hike to see the glorious glacier and some waterfalls of Alaska. With spectacular views surrounding it, you won't be able to hold back from capturing the moment. You don't even have to leave the comfort of the cruise ship to enjoy the view. See the huge body of dense ice cushioned between mountains from the balcony of the ship. In some cases there may even be a chance to witness the ice calving.
Canadian Rockies
This mountain range with ice kissed peaks, spanning across the provinces of British Colombia and Alberta, provides plenty  of scenery to take in. With many Alaskan cruises starting off in Vancouver, it's an added bonus to be able to behold the wonders of Canada as well as the American state. There are many outdoor recreation sites situated around the Rockies providing plenty of information on the mountain and offering a multitude of activities for you to participate in: from mountain biking to fly fishing.
Wildlife
See orchards diving victorious along the Alaskan coast and otters lounging on the surface of the seas. Bald eagles flying freely among tall trees and above the rivers, or feasting on fish. Brown, black or polar bears choose your pick, there's a chance that anyone of these can be spotted lumbering along the Alaskan and Canadian shorelines. Dall sheep and mountain goat inhabit and trail the alpine meadows. There's a series of wildlife to survey and be wowed by as they enjoy life in their natural habitat.
Cruise Ship
It's not only the outdoors that you'll be able to marvel at, but the beautiful decor of the cruise ships themselves will leave you astounded. No sight for sore eyes when it comes to an Alaskan cruise ship, there's plenty on board to help you enjoy a luxurious time taking in all the sites of Alaska in comfort and class. Choose from a range of entertainment, from casinos to movies and more. Have your belly full and satisfied, with gourmet meals, as you travel. The luxury doesn't stop at that when it comes to cruising, but with friendly and attentive staff you can travel hassle free as they seek to give you the best all round experience possible.
This isn't an exhaustive list of things that should motivate you to want to jump on the next cruise round Alaska, I assure the list goes on. It's not strenuous, it's scenic and spectacular and all the sites are right on your doorstep as you cruise along in style.