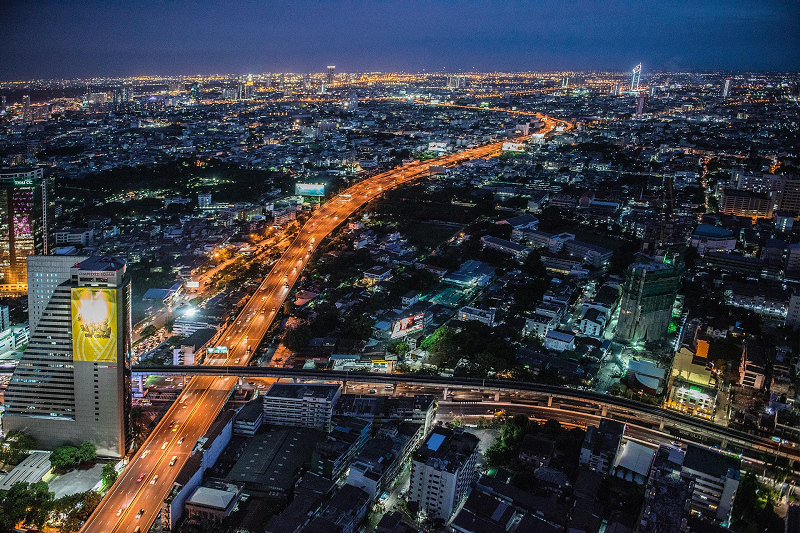 Bangkok is a tech hub with blistering internet speeds and a solid IT infrastructure rivaling ASEAN neighbours. Photo: allPhoto Bangkok from Pexels
Thailand is an increasingly attractive place to do business. The country has good connectivity and an infrastructure rivaling that of neighbouring business hub Singapore, which comes with the added benefits of much lower costs for good quality service at international standards.
Unlike many of its neighbouring countries, Thailand was never colonized, and maintained her sovereignty. Instead, Siam built amicable international relations with the Portuguese, Dutch, French and British emissaries while retaining its independence.
King Chulalongkorn (Rama V) was instrumental in keeping the colonialists at bay. He was responsible for modernizing Siam during his reign from 1868 to 1910 and was the first Siamese king to send royal princes to be educated in Europe.
Despite adopting many European influences, the Thais' English language skills were lacking compared to countries like Singapore and Malaysia, where almost everyone speaks English as well as their native tongue.
However, this generation of Thais has a much better grasp of English from access to more international education and communication over the past few decades, making it a lot easier for expats to live and work in the country than it was 20 years ago.
Pioneering a Digital Economy
Thailand's transition into the digital age began when the Ministry of Digital Economy and Society (MDES) was established in September 2016, replacing the Ministry of Information and Communication Technology (MICT).
Many of the country's vital departments now operate under the digital economy umbrella, including the National Statistical Office, the Thai Meteorological Department, the Electronic Transactions Development Agency, Thailand Post, plus state telecom organizations TOT and CAT Telecom.
In 2018 the ministry set up a cybersecurity agency and hacker training centre, recruiting more than a thousand IT trainers to educate people in 24,700 'broadband villages' nationwide.
Bangkok – the ASEAN Aviation Hub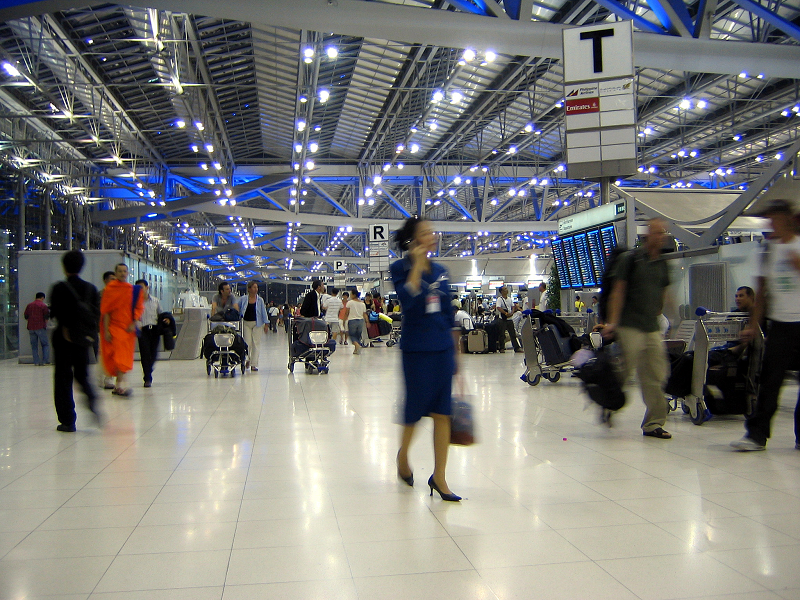 Bangkok's Suvarnabhumi airport processes about 60 million passengers a year. Photo: Khaosaming, CC BY-SA 3.0.
Thailand has six international airports connecting the north, south and central regions. Bangkok has two airports: Don Muang, which used to be the country's only international and domestic airport; and Suvarnabhumi, which is now Thailand's principal international airport, servicing about 60 million passengers a year, making it the 17th busiest airport in the world.
With more than 95 airlines plying the skies above Thailand, including several domestic carriers, competition is high between them, meaning you can make amazing savings on flights and hotel stays if you book in advance with agoda coupon codes discounts 2020.
Thailand Rolls Out 5G
Thailand prides itself on being an IT hub offering excellent internet connectivity in any of the country's major cities. The country's mobile networks and the Telecommunications Organization of Thailand (TOT) began rolling out 5G in March 2020, making Thailand one of the first ASEAN nations to do so.
Large investments have been made in IT education, industry and infrastructure, putting Thailand high on the list of top rated outsourcing countries with about 50,000 business technology graduates a year expanding the IT workforce.
Inexpensive but reliable web hosting services is one of the major benefits of Thailand's tech revolution. You can get up to 40 gigabytes of server space for an unlimited number of domains and email addresses with Thailand-based web hosting service hostneverdie. With the coupon s at ส่วนลด hostneverdie for April 2020   (discount hostneverdie) you can get discounts on their already cheap hosting packages featuring unlimited bandwidth.
Thailand No Longer a Hub for Knock-off Goods
Thailand is notorious for the knock-off goods you can buy from street side stalls in tourist destinations. For decades, tourists have been stuffing their luggage with counterfeit designer jewellery, brand name clothing, pirated CDs, DVDs and games for the latest game consoles.
Shops and hawkers brazenly sold their pirated wares in plain view with nothing much to fear except an occasional raid. Times have changed though. Thailand has been doing more to enforce copyright infringement laws to stay pally with its capitalist buddies on the other side of the pond.
In 2018, Thailand was put on the naughty list by the US Chamber International IP Index of the Global Intellectual Property Center (GIPC), ranking No. 41 out of the 50 countries on a watch list. With increasing pressure on Siam to clean up it's act, Customs officers often seize counterfeit goods from outbound tourists, who face heavy fines, too, if they get caught.
So it's worth stocking up before going abroad at somewhere like Media Markt, where you can use this media markt gutschein 25 rabatt exklusiv (media markt voucher 25 discount exclusive) to get a 25% discount on a vast range of tech and travel products with the assurance that they are genuine brand name products.
Bangkok's Museum of Counterfeit Goods is a Shocker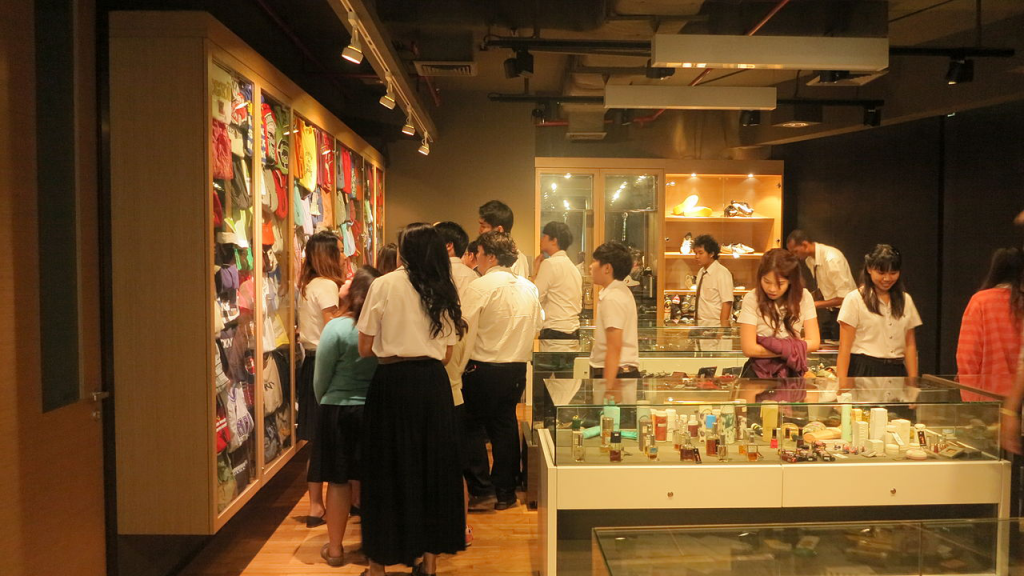 The Museum of Counterfeit Goods in Bangkok has more than 4,000 fake brand name items on display. Photo: PPun / CC BY-SA 3.0
The Tilleke & Gibbins Museum of Counterfeit Goods in Bangkok has more than 4,000 fake goods on display that were seized for infringing trademarks, patents, and copyrights.
As you'd expect, there are rows of dodgy designer watches and fake fashion brands with labels that won't stay on longer than the first wash once you get it home. No surprises there but it's astonishing just how prolific the counterfeit market is across a diverse range of industries.
Apart from counterfeit clothing, footwear and watches, there are fake perfumes, food and household products, pharmaceutical drugs, alcohol and cigarettes, plus office supplies and even car parts, tools and electrical goods.
To be sure you get genuine products or parts when you shop, go to an authorized dealer rather than a no-name streetside stall. If on the other hand you want to save on overpriced parts for household white goods, you can be sure that there's a much cheaper alternative that will do the job just fine.