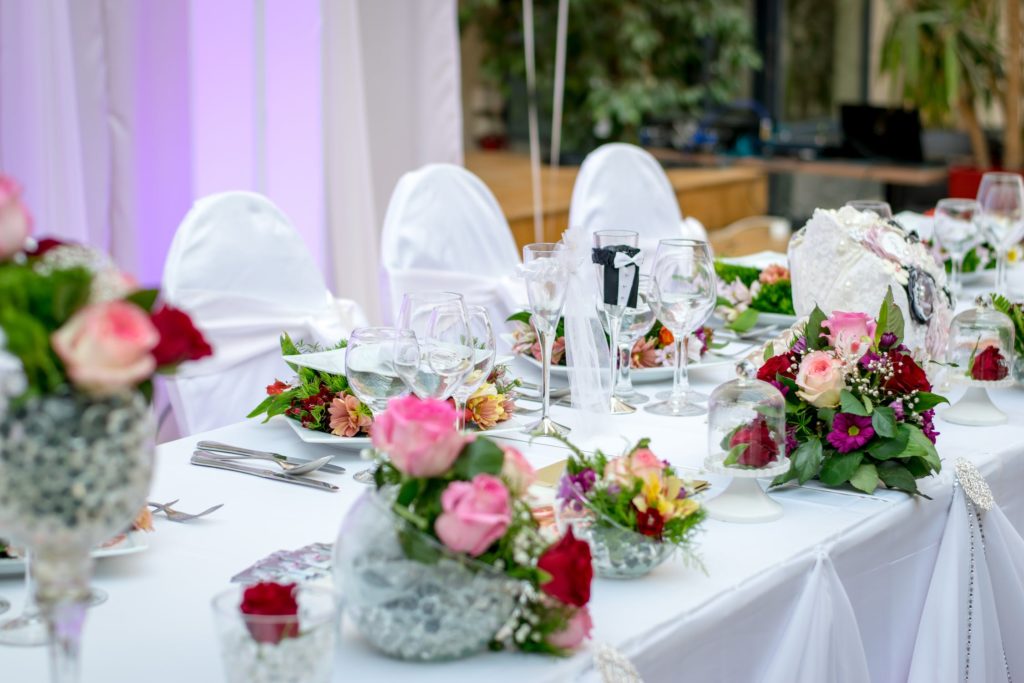 According to Inside Weddings, the second largest wedding expense is catering. This is no surprise, since one of the biggest factors of the wedding receptions happens to be the food. But at an average of $68 per guest, catering costs can be a financial killer: a normal-sized wedding can cost up to $10,000! Even if you're able to cut that astronomical expense in half, it's still fairly pricey.
So what's a couple to do? Many are, in fact, choosing to go with DIY wedding catering: a concept that may sound overwhelming, but is proving to be more and more common.
"Many couples are deciding to take on the job of preparing the wedding catering recipes themselves," says Christina Balian of Angel's International Catering in Los Angeles. "You can go from spending thousands to spending hundreds by doing it yourself."
So how exactly does a couple begin to plan DIY catering?
Create Your Menu
When considering your menu for DIY wedding catering, it's very important to keep in mind: You are preparing this yourself. So while your creative side may want to take over, remember to be realistic. Think of how many guests you'll be feeding, who you have to help you, storage space, and your budget.
When embarking on DIY wedding catering, it's best to keep it on the simple side. No one is going to be upset if you don't have Top Chef-style hors d'oeuvres—especially if you're serving delicious classics, such as pasta with fresh salad. Other affordable meals that are fairly simple to make in bulk include a taco bar and cold roast chicken with fresh veggies, but there are plenty of options.
Break down your recipes into prep "to-do" items. Organize the entire menu into a schedule—everything from tossing a salad to mixing up punch. Everything! And it's also a good idea to budget an extra two hours for emergencies (or just comfortable wiggle room).
Once you think you've nailed down a reasonable menu that fits all of these factors, double-check it and confirm with a trusted friend or family member that it works.
Make a List
Once you have your menu decided, get organized. Make a detailed list of everything you'll need to prepare that menu—including ingredients, cooking dishes and equipment, names of anyone who will be helping to prepare, and where everything will be stored.
Create a by-the-hour timeline of when to cook and how long it may take for things to be heated and ready to set up and serve. Will any cooking take place the day of the wedding, or can things simply be heated? How long will this take? How will drinks be taken care of?
When working on your wedding catering budget, it's also wise to consider buying small-but-pricey items (such as sauces or spices) in bulk from a place like Costco or Sam's Club instead of buying them from a market—especially if you're feeding over 100 guests. Bulk stores can be a lifesaver for DIY wedding catering!
Find Out What Your Venue Provides
It's important to think about everything that will be involved with the wedding catering. Will your venue provide dishes, glasses, and cutlery, and chafing dishes, serving utensils, or will you need to bring your own? If you have to provide your own, this will also need to be added to your master list.
If you are expected to bring your own dishes and equipment, this is an excellent time to ask around to see if friends and family will let you borrow them. Each table at your wedding reception can have a different set of nice dishes donated temporarily from those closest to you.
It's also smart to find out if your venue has a kitchen, refrigerator, and/or freezer that you can have access to. You may be able to store pre-prepared food there overnight so it will be one less thing to transport for your wedding day. 
Don't Hesitate to Ask for Help
So, you've decided to do your wedding catering yourself. This does not mean that you need to necessarily take care of the shopping, preparing, cooking, baking, storage, heating up, arranging, and serving yourself. In fact, you might lose your mind if you try to take on everything to do with the catering along with everything else that's involved in your wedding planning.
Instead, recruit your close friends and family members to help out. People tend to be especially giving for weddings, and it shouldn't be too difficult to round up several trusted helpers.
Tackling DIY wedding catering may sound overwhelming, but it can be done if planned and organized properly, with some solid helpers. It can also save you hundreds of dollars!
You can check out more DIY articles here, and more catering articles here.