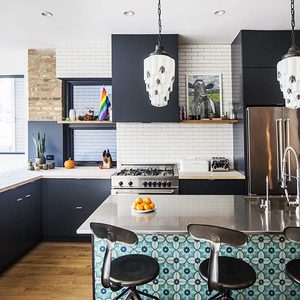 If you're like most people you're probably wondering where the summer months have disappeared to. With autumn on its way and summer on its way out, you might be thinking about all those projects around the house you'd been meaning to get started before the weather changed but didn't get the chance to. It seems that the year is going by like a shot and before we know it, Christmas will be here again. If you're hosting a huge family Christmas this year and want to get the house ready to welcome out of towners, consider some of these great DIY ideas to spruce up your space easily.
New Floors
Flooring is a great way that you can start making a space go from dull and drab to fresh and fancy without needing to do too much heavy lifting. The nice thing about flooring too is that it can either be a full on DIY project where you get some easy to place click flooring such as Kardnean Palio Clic, where you literally just place it and click it into the spot you want. This is a great way to replace any flooring in record time with little work on your part and without having to hire professionals to do the work for you. Choose from wood or stone effect to create the best look for your home.
Painting
Everyone loves a new coat of paint in their bedroom, living space, dining area or kitchen and painting a house is a great way to create a fresh and invigorated area. Many people also employ the use of wallpaper to create feature walls in bedrooms and living areas to really bring the room to life. Feature walls work best when only one or two walls are highlighted, so be sure to keep it simple and not overdo it on the wallpaper otherwise you might end up with a room that's a flashback to granny's 1950s parlour.
Upgrading Interior Doors
Interior doors can experience all manner of wear and tear and so upgrading the doors in the house itself can be a great way to inject some new life into the overall space. With so many options for interior doors as well with different finishes, colours, textures and more, it's easy to see why replacing or upgrading interior doors is a great way to go when it comes to doing up a house easily. Since the hinges will most likely already be in place, it's simply a matter of screwing the new door into place.
Refurbish Furniture
Refurbishing furniture can be another great way to make a space seem fresh and new. Taking the paint off of dressers, bureaus, tables and the like and redoing it can really create a new look in any space. If you're into the whole aged farm look, consider taking the paint off and leaving it a bit undone so the item takes on a weathered antique look, which is always a winner and hugely popular at the moment.
So if you're needing to get the house in order as soon as possible, consider one of the above ways – or try a combination! With so many great ways to fix up your space you will come up with a new, bright place in no time flat!