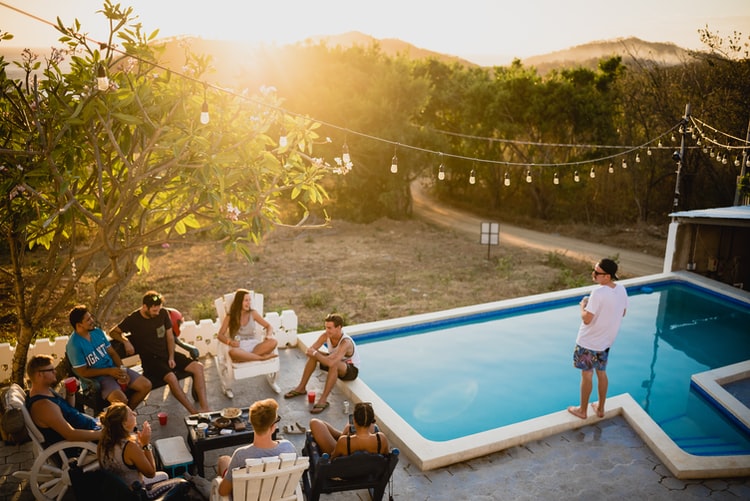 Do you have a tiny backyard – but a huge appetite for fun? Do you have the hankering to transform your backyard for full-scale entertaining? If you're not willing to be stopped by size, you can tap into your creative DIY spirit. With a little work, you can design a serene escape from the hectic world. Here's how to get started.
Make Friends With Concrete
A concrete patio is an ideal way to transform even a postage-stamp-size backyard. You can put in a slip of concrete under a tree. You can use an existing concrete patio and spruce it up with curtains, plants, and lights.
Make a statement by using the patio space to the maximum. Often, larger furniture makes a small space feel massive. An oversized lounge chair, a big couch, or a huge dining table will fill up space. Without much effort, you'll transform a tiny concrete pad into a grand patio.
If you are short on space, make the most of what you have.
Bring The Inside – Out
Look around your home, garage, and basement. You may already have some great finds to decorate your outside space. Sara used old doors to create a fun-filled theme for her Santa Fe Backyard. Danielle rolled out an ancient carpet to set the foundation for a Sausalito paradise in her backyard.
Martina brought indoor mirrors into her garden, creating a unique magical feeling in her Seattle patio. What are you noticing in your house? Perhaps there is some item just waiting to be re-purposed in your garden.
Ask Your Friends
If you feel like you don't have a 'designer-bone-in-your-body' don't despair. Ask your friends. Take a moment to think about whom you know who can transform a sad little space into a top-grade patio. Perhaps your interior designer friend would be delighted to give her or his magic touch to your backyard.
They may see things you don't. For example, put houseplants and orchids to add lushness. Decorate with lights and lanterns for a cozy glow. Create a natural feel with rattan furniture and woven fabrics.
If you aren't a designer, ask for help. You'll be delighted with what your artistic friends will create.
Get Grilling and Chilling
It's summertime, and nothing spells 'relaxing in the backyard' like a BBQ. If you're setting up your grill section, be sure to use safe grilling practices.
Look around the grill area and eliminate anything that could catch flames. Clear away brush, straw bales, or wood. Create a clean and clear space for the grill. Have a fire extinguisher nearby, just in case.
In addition to the grill, plan for less stress and more storage. Organize your stress-free zone with practical solutions such as ice chests to store pre-cooked meats. Plan a refrigeration area to keep cold foods cold – such as salads, pasta salads, and cheeses.
Make Room For Your Pet
No backyard patio is complete without space for your dog. If you don't have a dog, consider getting one! Check with your local pound or humane society to find a special companion.
If you've had a dog in the past, you know how tragic it is when your pet has a medical emergency. You may have had a favorite friend and needed to get personal loans
to cover his or her medical expenses. Perhaps you even had to reach out for help with funeral expenses. If so, what do you think your pet would want you to do now?
Most likely, Your pet would say, "Do it! Get a new furry friend."
While a basket or play area may need to be isolated from the food, be sure that your dog has plenty of room to play. Find an area that has both shade and sun. Gather up plenty of play toys. How about a pet pool for keeping cool in scorching weather?
Use Bright Colors
If you've been living with gray, grey, and taupe, it's time to spice things up. Use different colors to support the theme and feel you're creating. Decide on a theme – from tropical to the Mediterranean. Use bright colors like turquoise and hot pink to create a tropical feeling. Focus on soothing blues for a coastal vibe.
Pick up the same colors in plants, flowers, and borders. Once you have your theme, everything will fall into place. Organize fabrics, rugs, and furnishings to highlight the theme you've selected.
Wrapping It Up
Looks like you are ready to grill and chill. What time is the party?