With the right knowledge and proper arrangement, even the least spacious backyard can easily turn into an out of this world relaxing space. With the recent advancements in the construction sector, there's always a unique way to add that wow-factor to any patio design.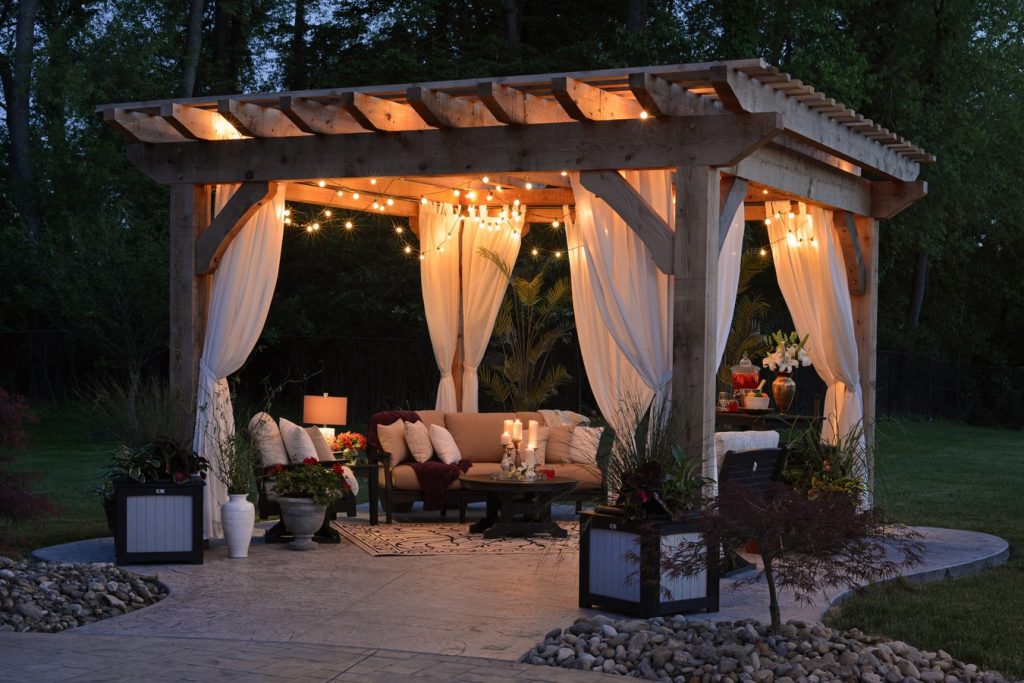 Worried about your small backyard space? We got the scoop from a Simi Valley concrete contractor, and are going to pass it along to our readers. Here are a few suggestions to help transform your small concrete patio and give it a classic look, a characteristic of most top-grade patio designs. 
Top 10 Concrete Patio Ideas for Small Backyards
1. Proper Furniture Arrangement 
A small backyard won't give you so much freedom in choosing an ideal furniture arrangement. But you can still make a statement with space-sensitive planning. To avoid wasting more space, consider installing your furniture in a corner just along your perimeter. An ideal furniture arrangement gives sufficient space to move chairs and tables around without compromising style and quality. 
2. Natural Designs
For small backyards, simplicity is the key to building an amazing relaxing space. Going with more elaborate designs is always tempting, but remember the small space may not allow you to include everything you want. 
So, let nature take its course then. A smooth, attractive design built from natural elements often creates a blissful environment. This now means that instead of going for more expensive, premium materials, you can include intriguing flowers, a well-decorated concrete wall, or green plants to improve your property's aesthetic appeal.
3. Prioritize Chairs
If dining is not among the primary roles your patio will serve, then it's better to include comfy chairs. A small space can be amazing with a neat arrangement using a few comfy chairs that create an off the charts relaxing atmosphere. However tough the decision can be; this is the time to sacrifice large tables and other furniture. 
Instead, consider getting a small side table for a convenient resting spot after a hard day's work. You can also include a few plantings around the perimeter to integrate your patio into a new world. 
4. Create a Cozy Environment
A small backyard can be bothersome. But it could also be a blessing in disguise. It depends on how you see it. Wouldn't it be nice to turn your patio into an amazing retreat? Make the best use of the limited space in your backyard to create a comfortable and private outdoor space for cheap. 
With limited outdoor space, you will never lack options to give it a comfortable and appealing look. A curtain is just one of those materials that provide a cosy environment for curb appeal. A combination of lighting gives an unimaginable ambience to accompany the dim, evening lights as the sun sets. Add luxuriance with throw pillows, strings, lights, rugs, and green plants.
5. Utilize Backyard Lighting 
Sufficient lighting in a small space is amazing. Have a say with a cool pendant light that glows all the way to brighten your area. For a low-key yet beautiful landscape, you may consider installing string lights to freshen up your space. But just don't forget to spread a few lanterns in the room to give a candle-like glow that's typical of top-class backyards. 
6. Include Borders 
Borders may not be one of the best design ideas, but they can be helpful when working on a limited space. They are excellent when working with a patterned patio, and you don't fancy the patterns going off the space. 
Besides, borders provide an economical way to freshen up a dull concrete without straining your budget. Other important finishing techniques you can employ for a wonderful concrete patio design include rock salt finishes and vibrant aggregates. 
7. Utilize Different Colors
A neutral tone is cool, but mixing a few colors could spice things up the right way. Create an incredible outdoor space from a huge array of coloring options. It's a valid argument that the property value increases with more color options, but just remember to keep everything simple when working with a small space. 
Opting for the same color for borders and patterns can be more cost-effective instead of going for a premium, more elaborate colors. Experts recommend selecting color options that either complement or, at least, match your house. Some green and blue color pops would be great for an outside space because they match the surrounding landscape. 
8. Buy Multipurpose Furniture
Choosing multifunctional furniture will most likely save you a lot of space. Pull-out sofa beds, for example, can act as seats and beds, making them a fantastic option for small spaces. Another example is the jute pouf, which can serve as extra seating and a side table when required. Before picking multifunctional furniture, know exactly what you need to save you money and space.
9. Go Green
Greenery is a vital part of any outside space and can greatly improve your small backyard. Green plants add vibrancy and a unique style that you will never get from other materials. So, inject new life into your small yard using the right greenery that brings texture and quality to your property.
10. Add Some Cool Tunes
For a well-built patio, atmosphere marks everything, and some cool music would certainly help to set the tone in your yard or break the monotony. A nice tune is also a mood booster for your sanctuary. Whether you want to kill the outdoor noise or catch up with your buddies, cool music can help. Consider getting a small Bluetooth device to bring your patio to life with some soothing tunes all day long. 
Conclusion
Summer is quickly approaching, and once again, a time to recheck your recreational options. Granted, a well-built outdoor space will certainly make it into your list of priorities. So, this is the time to spice things up and prepare well for an entertaining season ahead. Your outdoor space doesn't have to be boring if you know your style. So, consider our design options for your imminent concrete patio project to enjoy a fun-filled experience you will live to remember.