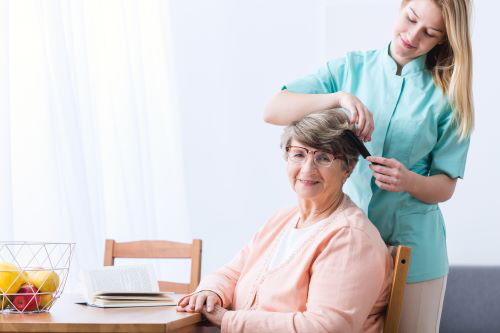 Caregivers are some of the most compassionate, loving, and giving individuals. They offer assistance, support, and peace of mind to families or individuals who are caring for a loved one. A loved one may just need some help with day-to-day tasks, such as washing, dressing, and meals, or perhaps they have dementia, and then day-to-day activities can take on a whole new meaning.
Everyone will need a break at some point. If you're asking yourself how you can find dementia respite care near you, you're not alone. Whether it's just a short break or vacation coverage for a few weeks, respite care providers are able to step in when there might not be anywhere else to turn. Solterra Senior Living may be able to offer a helping hand when you need a trusted and trained care provider to step in to provide dementia respite care.
It is imperative for people with dementia or Alzheimer's to continue to receive quality care while their primary caregiver recharges with a break and to do so in a comfortable and safe environment.
Finding and using dementia respite care near you can make a world of difference for a family or situation.
What Is Respite Care?
Respite care is the opportunity to have a trained provider step into the role of the normal caregiver, and it's something that can be immensely beneficial for both the care provider and the person with dementia. Respite care literally provides just that: respite. Individuals who take the opportunity to have a break will be able to disconnect, recharge, and come back full of energy and be able to care more compassionately than someone who is "on" all the time.
What Does Respite Care Mean for the Family of Those with Dementia?
When you have someone helping to take care of a family member with dementia, it opens up possibilities for you or the regular carer. It gives you the chance to get out and spend time with other family members or friends. It also means that you'll have enough time to do the things you need to do, including errands, exercising, shopping, or getting to a doctor's appointment. Along with the time to do all these things, you can do so relaxed, knowing that your loved one is in good hands.
For the person with dementia, having respite care can mean they get to interact with other people who are having similar experiences, they're in a supportive and secure place, and they have new opportunities to try things that sync to their needs and abilities.
How Do I Pay for Respite Care?
There are various ways to pay for respite care. If out-of-pocket isn't for you, look at whether Medicaid or VA benefits will cover a portion. Some locations offer sliding scale payment options, while there are also sometimes scholarships available. Depending on the sort of care, the duration, and the location, you may be able to piece together a few things to help cover the cost of respite care so you don't have to add funding it to your list of concerns. For more information about covering the costs and what sorts of benefits are available in the name of care, visit Dementia Care Central and learn about the available options.
How Do I Cope with Some of the Emotions That Arise Regarding Respite Care?
We all want to do right by our loved ones. We want to be there to take care of them, see that their needs and wants are attended to and, mostly, know that they're safe and happy. There can be new feelings and concerns that come with trying something new. Some of the concerns that caregivers face when contemplating respite care can certainly include the cost, but sometimes other emotions come out even stronger.
You may be concerned with the dependability of the new carer or aide. You may want assurance that you, in fact, can rely on someone else to care for your loved one. Caregivers that work in agencies or senior living communities are trained and should be wholly reliable. It will help you to process the new changes to get as much information as you can. Ask about training and certification. Find out how the protocol works in unexpected situations. Plan a visit and meet some of the staff.
You may also be experiencing some feelings of guilt. This is a normal feeling, but it's also important to look at things objectively. No one person can do everything. There's no shame with asking (and receiving) help, especially when it comes to the care and well-being of someone near and dear. In a 2018 report, the Alzheimer's Association estimated that there were more than 16 million unpaid carers for individuals with dementia and Alzheimer's. There are options out there, and you shouldn't have to feel like you're overwhelmed or unable to be "good enough" if you seek support to make sure you also have a quality life.
Unplanned Respite Caregiver
There can be a myriad of reasons for the need for immediate care from another caregiving professional. Unplanned and unexpected things happen. Emergencies can happen. Having a back-up plan in place to make sure your loved one with dementia is taken into consideration is imperative. That being said, be sure to make a non-emergency visit with the respite care provider before there's any need for any other situational experience.
How Do I Find Competent and Compassionate Dementia Respite Care Near Me?
A good way to find someone to relieve you or another carer is to visit the ARCH National Respite Network and see which providers in your area offer respite care services.