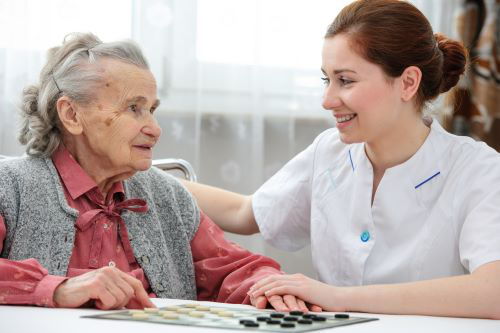 As our loved ones begin to experience symptoms of Alzheimer's disease or other types of dementia, finding quality memory care becomes extremely important. You want your loved one to be in a safe environment while also being able to maintain an enjoyable life. But when it comes to memory care, not everyone is capable of paying for the costs out of pocket.
There are ways to afford memory care even when you or your loved one aren't able to cover the costs, however. One of those ways is through Medicaid. Medicaid memory care is available to you if you live in Arizona. Through specific certified communities, such as BridgeWater Assisted Living, Medicaid memory care can cover your loved one's expenses in an assisted living community.
If you have a loved one who has Alzheimer's or another type of dementia, you'll want to find them the best community available. Quality care is just as important as finding a community that can assist you financially, and there are places that can offer you both. Here are a few things to look for to help you find quality Medicaid memory care near you.
What is Medicaid memory care?
In Arizona, Medicaid memory care is a benefit provided by the Arizona Long-Term Care System (ALTCS). It's a great option if your loved one isn't in a position to pay for the care they need. Through this benefit, the ALTCS helps seniors or those who have a disability find both high-quality and affordable care, so long as they meet the requirements.
How does one qualify for Medicaid memory care?
To be eligible to receive Medicaid memory care, you must be a fixed-income senior or disabled person. You'll also need to pass the components of the application, which involve financial, functional, and medical assessments. Your need is determined by the number of points you accumulate on the application, with 60 being a minimum score for eligibility.
If you think Medicaid memory care is a good choice for you or your loved one, it's best to act fast when applying. The standard application process takes between 45 and 60 days to be approved, but if you need more immediate care, your representative may be able to assist you while your application is pending. And if you're still unsure about if you or your loved one is eligible, there are resources for you to learn about the program requirements.
How do I find Medicaid memory care?
Not every memory care community is able to accept Medicaid for their residents. The Medicaid program is run by the government, and they require memory care communities to be licensed and certified as a Medicaid Nursing Facility. So when you're looking for memory care, make sure the community is certified to accept Medicaid. BridgeWater Assisted Living is proud to be Medicaid certified and provide memory care patients with a community that nurtures their needs.
What kind of memory care is practiced?
The type of care given to individuals suffering from memory loss varies from community to community. At BridgeWater, an exclusive science-based memory care activity program is used, called Equilibrium. This program is designed to create positive health and wellness outcomes for residents who are experiencing cognitive decline by taking a proactive approach.
The Equilibrium program director uses a combination of art, music, mindfulness, and cognitive therapies to challenge residents' minds while uplifting their spirits. In addition to these therapies, the program works to stimulate the brain and measures how each resident is feeling on a daily basis. Based on that feedback, therapies and actives are continually adjusted to achieve maximum results and satisfaction. Some of the measurable positive outcomes include decreased anxiety, improved memory, enhanced communication skills, as well as a reduced need for pharmaceutical intervention.
BridgeWater believes in this program and wants its results to be accessible. That's why residents and their loved ones are provided with real-time feedback on the Equilibrium program and its health and wellness outcomes for participants.
How do I know it's a quality community?
When it comes to finding a quality memory care community near you, there are a few things you should look for. You want your loved one to have a well-rounded experience that isn't limited for them because of their memory impairment. The community itself should spark joy for residents, with amenities that increase their quality of life and the tools to keep their safety a priority.
Health and safety monitoring
At BridgeWater Assisted Living all residents are offered our exclusive proactive 24/7 nurse call service. Our in-home sensors and predictive analysis capabilities detect changes in daily activities that may indicate potential health issues. Things like sleeping, toileting, and activities can all be monitored. Changes in these activities will alert our nurses and care staff, giving them the opportunity to intervene and prevent avoidable and often expensive accidents. Using this proactive technology can keep your loved one from having to visit the ER due to a fall or health issue and has the potential to save their life.
Community amenities
Another aspect of our community that showcases its high quality is the numerous amenities offered at each location. The goal of the staff at BridgeWater Assisted Living is to engage and nurture the minds, bodies, and spirits of our residents while keeping health and safety a priority. The amenities offered here do just that and give them the opportunity to learn new things.
Activities are always readily available, and our dining room offers residents the opportunity to socialize while our chefs create delicious meal options. Our residents enjoy nourishing food with the option to join in at our socializing happy hour, holiday meals, and other fun activities.
There are also on-site wellness and therapy centers open to our residents, with the added option of meeting with a physical, speech, or occupational therapist in the comfort of their own home. This type of access allows for quality Medicaid memory care that residents and their family members can trust.