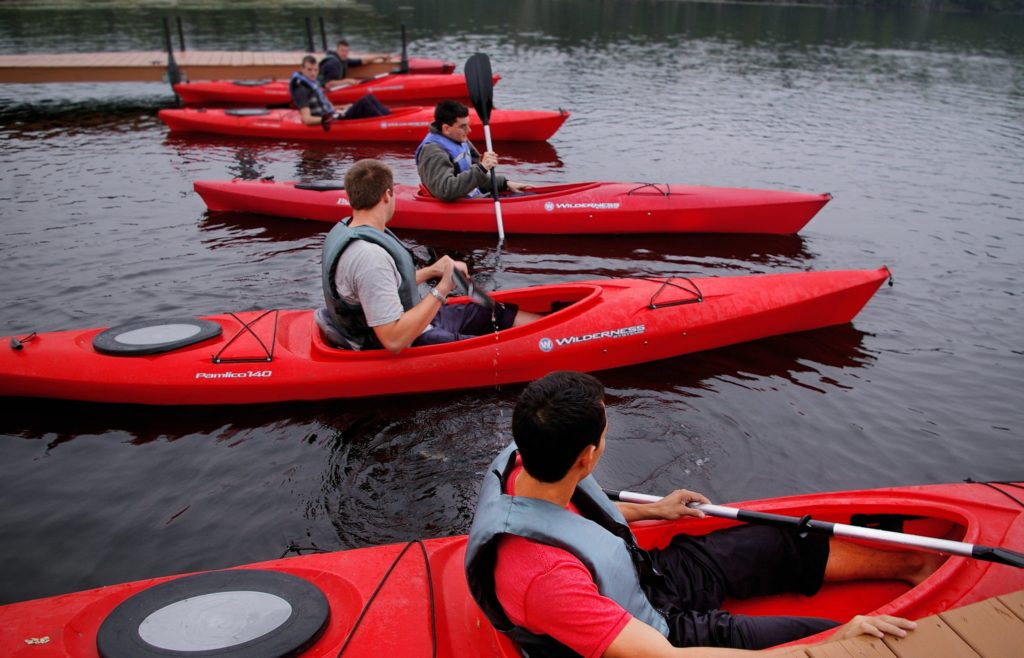 When you're traveling on vacation as a couple or with a bunch of friends, it's enjoyable to give some fun sporty activities a try. Not all of them will be something that you'd see on the TV necessarily, just as long as they give everyone a chance to let their hair down, join in, and get their adrenalin going.
Make the best use of the surroundings to find sporting activities that bring a smile to many faces. Some people will be more competitive than others and aren't good at switching that side of their personality off even when on vacation. Just be aware of that!
Here are a few fun, and cheap sports to try on your next vacation.
Round of Golf
Whether you're traveling solo, as a couple, or with a bunch of friends, going to a golf club to play a round is a pleasant way to pass an afternoon. Not every golf club requires prior membership either. There are plenty of places that offer a one-day pass to get vacationers in the door.
When you're going to play golf on vacation or plan to hit the greens more often in the future, picking up the best golf club on the market is never a bad idea. It's better to perfect your swing using quality clubs that feel balanced and powerful in your hand instead of learning to play with a low-quality set of clubs and having to start over when you upgrade.
Skipping Stones
It's not only kids who enjoy playing skipping stones. For one thing, it's about the cheapest bit of fun you can have at a lakeshore location where there are a few pebbles strewn around the sandy shore. It's a fun activity to do as a group taking turns to see who can get the farthest.
Perhaps one person who isn't playing should decide the winner because judging distance is always a bit subjective! If you want to make it more competitive, wager on something that the number one person at skipping stones can skip out on. Maybe not washing dishes that night at a camping lakeshore destination or not having to pay their portion of the dinner tab that night. That's sure to get the excitement level up!
Kayaking or Canoeing
When staying near a lake or river, hiring a kayak or a canoe isn't overly costly. If you're traveling in an SUV or larger vehicle with a roof rack, you could bring along water-based gear if you own some and use that to save money. A wetsuit is also useful if you are wanting to participate in any water activities where the temperatures can drop fast.
Whitewater rafting is another option, but that tends to be much more expensive and require organized trips. But when renting a kayak alone, this keeps the costs down because the operator doesn't have to employ a whole team of staff, think about safety issues, prepare lunches and organize transportation. Because of this, the price to rent a kayak or even a standup paddleboard isn't that much.
Baseball
When you have a large group together, there's the possibility of playing America's favorite pastime – baseball. You can use large stones for each of the four running bases. Bring along some baseball bats and some balls that aren't too worn out yet. It's a good idea to have some face guards and padding for the most vulnerable players to avoid accidents that could ruin the trip. Any park will do for setting up an impromptu baseball diamond. And don't be surprised if some local kids and their parents wander over wanting to join in once they see what you're doing. The more, the merrier.
Volleyball
Volleyball is a great sport to play with men, women, or mixed together. You don't really need a proper net. Just find two poles or strong branches and tie a string across the top of them. Then plant the poles into the ground to set up the net. It's a good idea to bring some tape that you can use to line the back of the court and anything beyond that is out of bounds. Don't forget to bring one or two volleyballs and perhaps a hand pump to add more air to them. A net is a good idea if you have the space to put it in the trunk along with everything else.
Tennis
Tennis is an adaptable sport to play because there are clay and grass courts all over the country. Some are outdoors whereas others are indoors, usually at sports centers. The great thing about tennis is packing a couple of tennis racquets in their protective cases is lightweight and doesn't take up too much room. If you forget the tennis balls, you can usually pick some up very easily at a local sports store.
When you have an uneven number of players, you can take turns to play the winner. Also, try mixed doubles matches because that's a lot of fun and avoids leaving too many people out between sets.
Basketball
Basketball only needs a hoop set up and a basketball. You can check whether a resort or vacation sport has a hoop anywhere. You also might find that a local park has one to use. Bringing along a basketball is easy, and you can play a pickup game whenever you see the opportunity.
There is really no end of fun and inexpensive sports that can be played when on vacation. Some do require that you plan a little bit by bringing some of the equipment you need, but most of these don't take up much packing space. It's certainly easier to bring your own sports gear when you're driving to a destination, but you do have the option of dividing up the sports gear between the group when flying to the destination. Participating in sports while away is an excellent idea because it helps burn off excess calories from the restaurant meals and calorific desserts! It's certainly much easier than returning and having to burn it off alone after you get home.