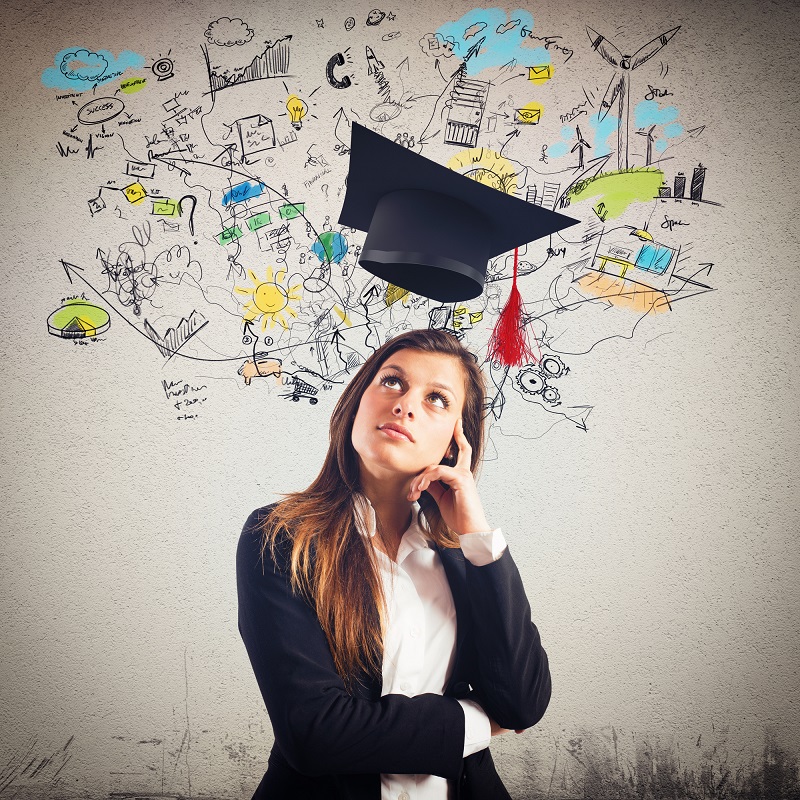 Have you considered continuing your education but have been on the fence about it? Here are some of the best reasons to go to graduate school and earn a better degree.
You've been thinking about going to graduate school. You're wondering if a higher education might make you more qualified in your field, enable you to switch fields entirely or get more job security. Whatever your reason to go to graduate school is, a masters degree is an investment in your future.
Sure, you might get some pushback from your friends or family, or maybe you're even having second thoughts yourself. Have no fear. Here are some incredible reasons to go to graduate school that will make you feel more secure about your decision
1. Invest in Your Future
Enrolling in graduate school is an enrollment in your future. Think of graduate school as professional training that gives you all the right skills and tools you need to jump straight into your dream career, instead of a nightmare job.
However, it's important that you're deciding to go to graduate school with some idea of what that dream career or path is. You don't have to have everything figured out, but knowing where your interests and passions lie can really help.
Unlike college, you need to have some direction when studying to get your master's degree. Graduate school is nothing like college. Deciding to go to graduate school should not be based wanting to stay in college forever so you can party and never grow up.
2. Get More Jobs and Better Jobs
Your resume will stand out with a master's degree from an accredited college or university. Perhaps there are some jobs you've been applying for and haven't gotten because of you only have a bachelor's degree. A master's degree will give you a better chance of landing a job interview and getting a job with a better salary and benefits. Taking a master's degree in software engineering, for example, will not only help enhance your software development skills but could also open up opportunities in expanding your network.
There's no fake it 'til you make it with a master's degree, like you may have done with your bachelor's degree. Graduate school gives you the skills that will give you the confidence to excel at your new job, instead of winging it with your bachelor's.
Skills that go beyond getting coffee. Skills that make you capable of solving your company's toughest problems.
3. Switch Careers
Maybe the more you enter the workforce, the more you're realizing what you have your bachelor's in, is not what you want to do at all. You're not alone, this happens to more people than you think. It's nearly impossible to decide what you want to do with the rest of your life when you declare your major at 18.
You might even find that your new career path requires a master's degree. Don't be discouraged by this, where there's a will, there's a way. The new work you'll get with your degree will pay for itself.
Graduate school gives you the option and security to switch careers entirely with a master degree. Jumping into a new field requires new knowledge and experience, and graduate school is a great start for this exciting new change.
4. Get More Than a Qualification
An undergraduate degree is pretty much just a basic qualification. Whereas a master's degree shows you have more professional skills.
Graduate school isn't just about getting a few extra letters behind your name or a fancy expensive degree. It's about developing your professional self so you're really ready to enter the work world.
Instead of getting an entry-level position that you qualify for with the bachelor's degree, you master's degree will give you a career boost in your field.
And if you return to your job with your master's degree, this could make you more qualified for that raise, promotion, or gaining status with more responsibilities you're now equipt to handle with your new skillset.
5. You're Never Too Old to Pursue Your Passion
You may feel that your school days are long behind you and that you're too old. But that is not true. You're never too old to follow your dreams.
With the rise online graduate programs, it's now easier than ever to get your master's degree. In fact, the average age of undergraduate and master's program has risen dramatically in the last two decades.
There are also night classes for those who have day jobs, even hybrid options where you can take classes in the classroom part-time and use online classes for other requirements.
Now you'll have the opportunity to really pursue your passion and interests. Graduate schools offer extracurricular activities, meetings, and lectures so you can learn everything you want about what you're studying.
6. Contribute to America's Knowledge
A recent study found that more than 16 million people in the United States, which is about 8 percent of our population, have a master's degree. This is a 43 percent increase since 2002, meaning that master's degrees are as common now as bachelor's degrees were in the 1960s.
So if you are the kind of person who wants to contribute to the world professionally or academically in any field, you're going to have to know your field inside and out. You, too, can become an innovator in your field with a master's degree.
Your studies may help you have a breakthrough that makes a positive difference in the world. Your graduate studies may just be that jumping off point you need.
7. Make Connections
Graduate school is about connecting with other graduate students and faculty professionally and forming bonds and relationships that will last your entire career.
As a graduate student, you'll learn how to network like a pro and polish your people skills. You'll take these skills into the professional world, as networking is what can land you that job or get you that promotion.
You'll be connecting with like-minded people and bonding over educational and professional similarities, instead of bonding over both liking pizza and beer. You'll meet people you'll want to collaborate with, maybe even meet someone who can help you turn your dream business into a reality.
8. Increase Your Financial Prospects & Job Security
You don't necessarily need to be looking for new work to get a master's degree. You might love your present job and just want a better role in the company. Your master's degree can help you do that.
There's a lot of careers where a master's degree really does pay off. A master's degree can raise your weekly income to more than $200 and increase your employment chances by 11 percent.
Your master's degree also makes you of more value to your company, which can give you job security. If your company ever has to do a layoff, you have a better chance of staying because of the higher education you bring to the company.
9. You Can Even Get Your Graduate Degree Online
Some graduate programs don't even require you to leave the comfort of your own home to get them. There are thousands of accredited online master's degree programs from hundreds of college across the country.
But some degrees do require you to leave your home, for example, if you were studying law. There are legal studies degrees that require on-campus visits. Either way, it's never been easier to go to graduate school, especially when in some cases you don't have to go anywhere.
10. The Best Reason to Go To Graduate School? Your Company Might Pay for It
You might still be paying off your student loans from college, but the graduate school could be paid for by your company. Some employee benefit packages can reimburse you for part or even all of your tuition costs. Companies see your higher education as an investment in having educated employees with high credentials.
This could mean a partial or all expenses paid trip to graduate school, so what's your excuse now?
Just to give you an idea, here's how much some top companies will pay for graduate school. Verizon and AT& T offer an $8,000 a year reimbursement. Disney can give you a $700 per credit hour and $100 for materials.
Other companies like Wells Fargo can give you a $5,000 per year reimbursement and $1,500 per year scholarship if you have children. Chipotle gives you a $5,250 per year reimbursement, where are Smuckers can give you up to 100 percent reimbursement for select courses.
Definitely, check your company benefits or speak to someone in human resources to find out how much your company can help pay for graduate school.
Have You Enrolled Yet?
Do you need another reason to go to graduate school? It's you.
Again, enrolling in graduate school is enrolling in your future. You'll learn the skills and get the connections to help you excel in your field. Your studies might even change the world.
It's never too late to follow your dreams, and with the increase of online graduate schools and night classes, there's no excuse to get the higher knowledge you deserve.
As master's degrees are becoming more the norm, don't miss out. Your degree can not only help you land that job, it can get you a promotion at the company you're already at.
And the best part, it can even be free, just ask your company about their policy on graduate school. For more information on how to go to graduate school without breaking the bank, contact us.