The UC-Davis campus sprawls among beautiful trees set along the picturesque Putah Creek. Over 35,000 students pursue undergraduate degrees in 104 undergraduate majors and 99 graduate majors and reside in numerous dormitories across campus.
Founded as an agricultural school, it is now thoroughly modern with strikingly impressive architecture distinguishing it from many other cookie-cutter California campuses. Home of  winners of the Nobel Peace Prize, Presidential Medal of Freedom, Pulitzer Prize, and MacArthur Fellowship, it ranks with top research universities.
Residence life
Handsome and modern student residences provide efficient rooms with simple furnishings and shared restrooms and showers.
Incoming first year students are guaranteed a dormitory residence on campus, after their first year, "the UC Davis tradition is that most students choose to live off campus for their second year. To assist with the transition to community housing, Student Housing hosts programs …discuss how, where, and when to search for housing, and teach students how to understand rental agreements."
West Village
Breaking the mold on typical college residences, UC Davis apartments at West Village offer something strikingly different.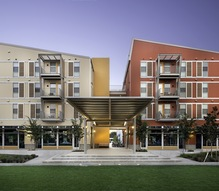 West Village forms a three-story neighborhood at the edge of the central campus. Each floor has three and four bedroom apartments instead of the typical two-bed dorm. Apartments have bathrooms for each bedroom.
Apartments stretch from 898 to 1453 square feet with dining, kitchen, and living areas, plus a washer and dryer. The 114 neighborhood population enjoy the West Village pool, weight room, movie theater, pool tables, cafe, restaurants, and must more.
Each building is configured differently, and combined they present a pleasant park-like village within walking and biking distance of the main campus.
The U
Just a little way from the core campus, The U apartments Davis CA were formed from a former student apartment campus. Apartments are fully furnished with contemporary flair, modern appliances, and hotel amenities.
Spacious three and four bedroom floorplans feature stainless steel appliances, quartz kitchen and bathroom features, and free internet throughout.
Rates in different apartment configurations vary per bed space plus a $30 monthly utility fee. Common areas include pool tables, fully-equipped workout gym, outdoor barbecues, and super pool and spa.
The U is off campus but accessible by bike or Unitrans A train and close to Davis city attractions.
Why do apartments?
Living in your own apartment takes you away from the regimen of campus life. It can be liberating and maturing to take care of yourself in your own place. It's a little longer commute, but each step is a move away from the institutional life.
Students working off campus find themselves closer to their jobs and free of the hectic dormitory lifestyle. There's noise and partying in apartment complexes, too, but you have options to get away because you're sharing the space with peers, many with the same majors and interests.
You can also see it as a transition to apartment life when you've graduated university. You get more space, more freedom, and more independence, usually at a cheaper price.
And, as Caroline Eaton writes on College Tourist, "You're part of the greater community. Putting a little space between you and your campus doesn't have to be a bad thing. In fact, when you live off-campus you can learn and experience more of the communities outside of your college world, and you have more opportunities to meet people of all ages."
At UC-Davis, apartment living gives you the chance to select your own roommate, someone with the same tastes, hobbies, and active interests. It's worth shopping if you are college-bound.