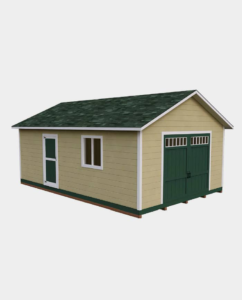 Ever looked outside your yard and asked yourself what to do with that lonely patch lingering at the corner? You may think of developing a flower garden or even putting up a shack structure. This shack structure may either house your indoor vegetable garden or provide space for your kids to play in. To many, this might remain an imagination, but to some determined persons, this dream may turn to reality. The building of a shed may seem like a complicated idea, but if you have the right mindset, you can get it done. And they're quite a few premium shed plans for sale on the internet that give step by step guidelines on building a wide variety of sheds.
Premium shed plans are available in different specifications explained to the last detail on www.3dshedplans.com. They are available in various designs, but even on that specific design, they differ in the width, length, and height. They are also available in different functionalities. Below are a few structures you can build by the use of premium shed plans;
1. Lean-To Style
This is a simple yet functional structure for your lawn or yard that can be used to store outdoor furniture, gardening tools, machinery, or toys. This kind of shed is built right beside your own home with one of your walls as one of their walls, hence its name lean-to. Despite their traditional three-walled types, there are stand-alone four-wall sheds available on premium shed packages available in the market. For this structure, the foundation, the walls, and the windows and doors are built just like a typical house. But when it comes to the roof, it is built in an irregular sloping shape leaning away from the main home. The slope should ideally be opposite the main houses wall to avoid the accumulation of water during rains. This sloping roof is the main feature that makes it stand out. They come in handy in the decluttering your home.
2. Gable Style
These are the most common type of sheds built which have a pointy roof with sloping sides and an attractive ridge at the top. These structures look like miniature houses if built in small sizes and can ideally be used as doll houses. The bigger sizes are common in large farms to house tractors and farm produce as well as tools. Building gable style sheds using the premium shed styles is very easy. The foundation is built just like a basic foundation with the option of sinking or rising it. The installation of supportive beams entirely depends on the size of the shed. Unlike the lean-to style, these structures can be built on their own, meaning they could be right beside your house or maybe at the far end of your lawn. This gable sheds can be used as storage space but can also be used to house your potted plants or indoor vegetable garden.it is possible to harness the water that falls on the roof by installing garters that lead the water to a storage tank for future use. Some people also use them as garages for an additional car that the family owns.
3. Hip-Roof Style
The Hip-Roof style shack unique selling point is that it offers a lot of headspaces owing to the very steeply sloped roof. These kinds of sheds are very functional is the storage of gardening tools, including tractors, because of the availability of the extra headspace. They can also be used as warehouses or as machinery garages where maintenance and repairs can be carried out. For the bigger sizes, their foundation is built underground to cater to the heavy weight of the building. The installation of the walls, windows, and doors are clearly stated on the premium shed plans available in this style.
4. Saltbox Style
A saltbox shed is the ideal kind of shed that you should choose if you want to get a replica of your house. The structure of such a shed may differ, but in most cases, they are similar both in color and shape of your main residence is taken into consideration. The part of this shed that sets it apart from the other types of shacks is that the roofing has a slightly differing construction. While both sides slope together and join at the top in a ridge just like the gable shed does, one side of the slope is actually longer than the other. The constructing of the foundation and walls take up a conventional design, but the roofing needs a bit of more attention. All these are specified in premium shed packages available for this kind of shed.