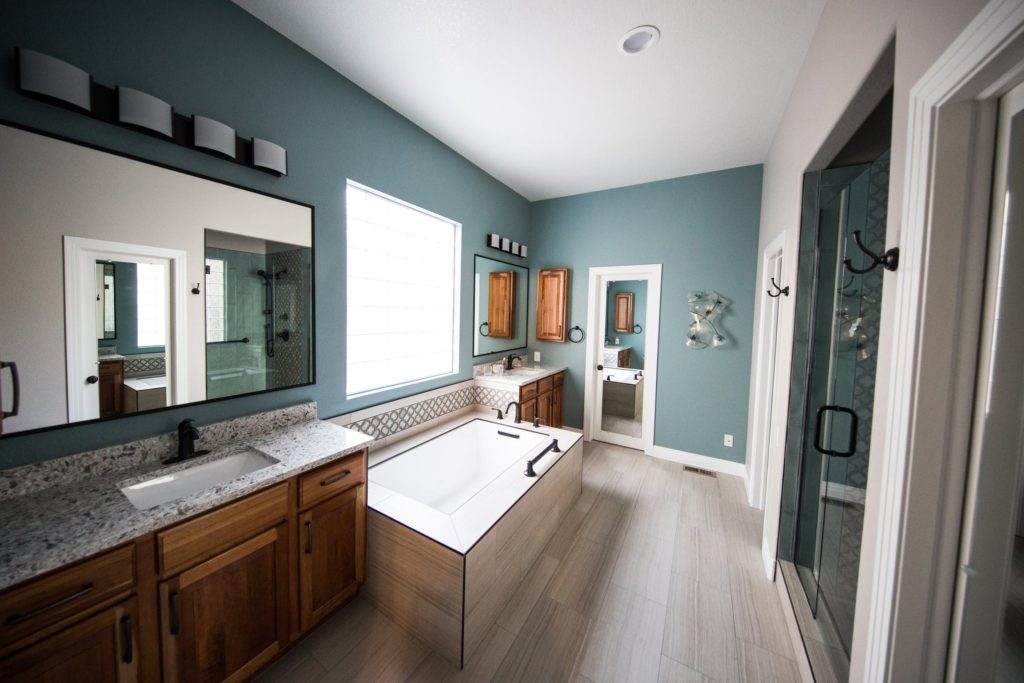 When it comes to home design, perception is everything. Your inherently small bathroom can either feel cramped and suffocated, or it can radiate a feeling of peace, positivity, and spaciousness. It all depends on how you approach its design, how you complement the elements, and combine various materials.
The best part is that you can absolutely introduce your own personality into the mix. You don't have to restrain yourself just because you're under the impression that if you bring any seemingly extraneous detail in, the space is going to feel cluttered and standoffish. In fact, by implementing the following tips, you are bound to create a beautiful, capacious bathroom.
Custom shelves and storage
There is no way around it, a small bathroom requires some creative thinking and planning in order to effectively keep clutter at bay and clear the surfaces of various knickknacks that would otherwise make the area feel cramped. So decluttering is your first step.
The next step is to introduce custom shelving in order to make good use of every free spot on the walls, around the sink, the shower, and the toilet. Be sure to keep the overall theme of the room in bright hues in order to open up the space even more.
Get rid of the door
Think about it, do you really need a traditional door? You shouldn't go for a door shower curtain either (you're not in a 70's hippie flick you know) so a sliding door is your best option. Traditional solid doors take up way more space than you can afford, especially when you're trying to manoeuvre quickly in and out of the bathroom.
In order to let your bathroom breathe and free up some much-needed space, opt for a sliding door or even a beautiful accordion model. Your bathroom will thank you.
Mirrors and lighting
Your bathroom needs to bask in plenty of natural light during the day in order to emanate positivity, vibrancy, and spaciousness. There is nothing worse than a small bathroom design with terrible lighting to make it feel even more cramped. Furthermore, you can introduce subtle task and ambient lights to help the area feel capacious in the evening as well.
You also want to take advantage of mirrors, and strategically place them over the vanity, next to the door, and across the shower to give out the illusion of spaciousness. They will also allow light to permeate the room even more.
Keep it clean
One of the most important pieces of the small bathroom design puzzle is regular maintenance and upkeep. Your bathroom needs to be designed in such a way that it provides as much freedom of movement as possible. However, clutter will inevitably make its way back into the room.
This is why you want to tidy up the space regularly and avoid difficulties common in small, cramped spaces, such as leaky faucets, perpetually blocked sinks, running toilets and more, by calling a professional the moment you notice a problem. You can get bathroom supplies from a renowned bathroom warehouse in Sydney and that will help you organize your bathroom and make it far less cluttered.
Free up the floor
Finally, you want to free up your floor by raising everything off the ground. Yes, that means the elements as well, not just your common bathroom necessities, such as soaps and shampoos. Think about adding a floating vanity and a wall-mounted toilet and sink.
You can leave this floor space empty to support a feeling of spaciousness or you can use it for extra storage. In this case, you want to accentuate the free areas with knitted or colourful baskets to bring a dash of personality and flair into the room.
Living with a small bathroom shouldn't feel like a sentence you have to endure for the rest of your life; in fact, with a bit of imagination and some prudent planning, you will transform your tiny bathroom into a roomy oasis in no time.