Everybody likes to have an attractive home. If given the chance, they'd have a pleasant selection of furniture, colors, and patterns. However, it's sometimes hard to achieve that when you have eyesores everywhere such as Wi-Fi routers or wall power outlets.
The thing is that although you might not like to see your printer or light switch in the living room, as they just don't match with anything, you still need them. So the best course of action is to try to swiftly conceal them as if they were part of the original decor.
Replace Your Ugly Thermostat With a Smart Thermostat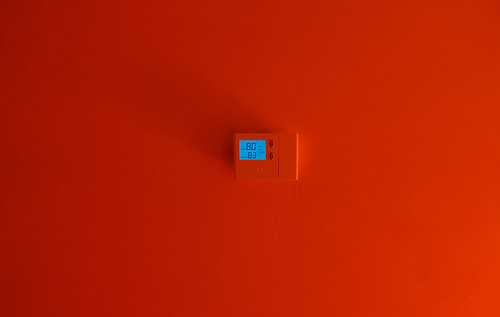 Image via Flickr by Dean Hochman
If you'd like to impress your guests (and yourself), you should replace your unsightly thermostat with stylish smart ones. Not only do they look modern, but they'll also control your home's temperature more efficiently. You can even program them remotely using a smartphone.
Cover Wall Outlets With Art
If you happen to have a power outlet that doesn't fit with the rest of the wall, you can hide it with some art. A good idea is to use wall stickers, so it looks like a piglet's snout or a cartoon's eyes, or maybe cover the wall with pictures and paintings, so the outlet blends in the background.
Make Your Light Switch Useful
Did you know there are sticky notes, with a rectangular hole in the middle, specially made for light switches? They're perfect to have in the kitchen or living room to leave notes for your partner or kids. You could also use chalkboard paint around the switch and write in the area to doodle your messages.
Hide the Wi-Fi Router With a Vintage Book Cover
A great way to hide Wi-Fi routers is to put them inside vintage book covers. When you do that, it looks like you only have an interesting book on the desk, but in reality, the book is "hollow" and the router is inside it. It fits perfectly with rustic tables and furniture.
Use a Shutter Screen to Conceal Utility Meters
An old shutter screen is all you need to cover outdoor utility meters or HVAC units. If, for instance, you use an antique shutter coupled with a charming rocking chair, you'll also add personality and create an attractive area to hang around.
Keep Your Printer Inside a Drawer
Printers can sometimes be bulky and, more often than not, their color and design are too monotonous for a stylish room. Instead of having it on top of your desk, put it inside the drawer of a nearby dresser. You can always put hinges on the front panel of the drawer, so you can easily operate the printer.
All in all, decoration is a lot more about making elements work together than just changing everything. You still need your devices, plugs, and appliances; you just don't want to see them. When you decorate a room in a creative way, you'll make your home look more stylish while getting rid of the annoying eyesores.