The glitz and glam of Miami Springs, Florida, can be intimidating for budget travelers, but the city offers plenty of affordable attractions you don't want to miss. Here are a few ways to jazz up your Miami vacation on a budget.
Crandon Park Beach
Crandon Park boasts more than just the beautiful beach you're looking for on a Florida vacation. Park for $5 on weekdays ($7 on weekends) and enjoy the pristine 2-mile beach, then head over to the Amusement Center and check out the carousel and playground. Plus, the Nature Center and self-guided walking tours are great opportunities to learn more about the park's diverse wildlife, history, and ecosystem.
Free Admission Museums
Admission is always free to The Institute of Contemporary Art. Here you can go on a daily tour or schedule a free private tour for groups of five or more. The Patricia and Phillip Frost Art Museum, located on Florida International University's Modesto Maidique campus, is also free and has exhibitions and events featuring art from different cultures and time periods. Many of Miami's other museums have monthly or weekly free days, so be sure to check which ones might line up with your schedule.
Authentic Cuban Culture and Cuisine in Little Havana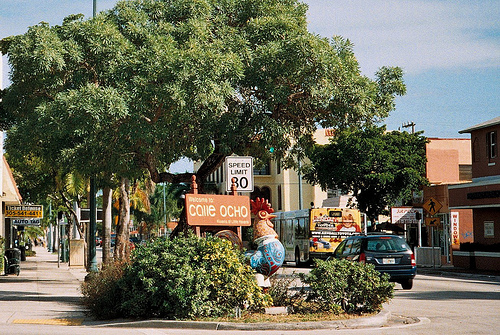 Image via Flickr by Phillip Pessar
Visiting Little Havana, especially Calle Ocho (8th Street), is like taking a step into Miami's history — and it's not far from plenty of affordable hotel options. It's packed with authentic Cuban culture, from hand-rolled cigar stands to cafes and delicious, cheap cuisine. Outside the Calle Ocho hub, you'll find a memorial park for Cuban heroes, locals playing dominoes, and Paseo de las Estrellas — a walk of the stars dedicated to Latin American artists and celebrities. Of course, if you're around on the last Friday of the month, don't miss Viernes Culturales!
Bill Graham Farm Village
Located in Amelia Earhart Park, the Bill Graham Farm Village is a replica of the kind of farm that once was found all over the region. The farm village was built to educate visitors about the area's agricultural past and includes a homestead barn, petting zoo, general store, and more. Parking is free on weekdays and $7 on weekends and holidays; the Farm Village itself is free to peruse. The park also has a play island with a fort-style tree house and a variety of sports amenities.
Visit the Animals at the Zoo Miami
The climate in South Florida allows the Zoo Miami the unique ability to keep a mix of animals from Asia, Africa, and Australia that you can't find in any other zoo in the U.S. All the animals enjoy large, open-air exhibits with habitats matched as closely as possible to their natural ones. With animal feedings, tours, and shows, plus group discounts to make your visit more affordable, the zoo is a can't-miss opportunity to observe and learn about amazing wildlife from around the world.
These are just a few of the many fun, affordable activities available in Miami Springs. Leave a comment below to let us know what other great finds you come across during your vacation.