New York is a cosmopolitan city at the center of worldwide art, dining, and shopping trends. Although it is an exciting place, this cultural mecca can also be an expensive travel destination. However, with a little planning, you can happily do the Big Apple on a budget.
Stay Outside the City
The prices for hotel rooms in New York are some of the most expensive in the U.S. However, getting a hotel in areas outside the city can help you save. For example, you can find less-expensive hotels in the New Jersey Meadowlands.
The Meadowlands is a short drive away from Manhattan and easily accessible by Amtrak, NJ Transit, or a ferry ride from Hoboken. Just remember to get a hotel reservation far in advance of your trip before the hotel rooms are completely booked.
Play at a Park
Enjoy free and low-cost events and activities offered at the more than 750 parks throughout New York's five boroughs.
High Line Park is known as "the park in the sky." It sits atop abandoned elevated train tracks and features everything from art installations to exquisite views of the Hudson River.
Central Park covers 840 acres, and it has a lake, sports fields, a zoo, and many gardens. Prospect Park is home to the Brooklyn Botanic Garden. Socrates Sculpture Park in Queens displays large outdoor art standing against the Manhattan skyline.
Eat Like a Foodie
New York is a food lover's paradise, but that food often comes at a high price. However, you can start your day with a freebie if you book a hotel serving a complimentary breakfast,
Food trucks and stands are everywhere in New York, and they offer tasty and inexpensive treats such as hot dogs and ethnic specialties. College areas and ethnic neighborhoods such as Chinatown also feature many low-priced eateries with delicious food.
Go to Parades, Fairs, or Festivals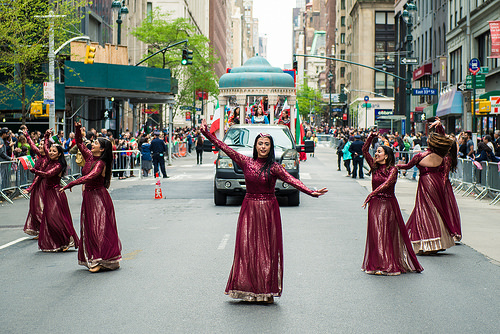 Image via Flickr by Randy Le'Moine Photography
Celebrating with a parade is practically a New York tradition. There are parades in New York happening almost every month of the year, and many are connected with free or low-cost festivities.
The city also has fairs and festivals featuring everything from mahjongg to movies. Activities are usually cheap or free, and there are food booths and places to buy inexpensive souvenirs.
Take Advantage of Pay-What-You-Can 
New York City is filled with must-see museums and cultural institutions, and those admission fees can add up! Before you buy tickets, however, check for discounted rates. Most institutions have pay-what-you-can, free, or reduced-price days and times.
Visit at the Low Season
Summer is an exciting time in New York, but for real bargains, try visiting during the low season — January through March. If you don't mind cold temperatures, you can snap up deals on food and lodgings while enjoying seasonal pastimes such as ice skating.
Taking a vacation doesn't have to break the bank! By finding out about the best low-cost options for food, lodgings, and activities, you'll be able to have fun and save money.