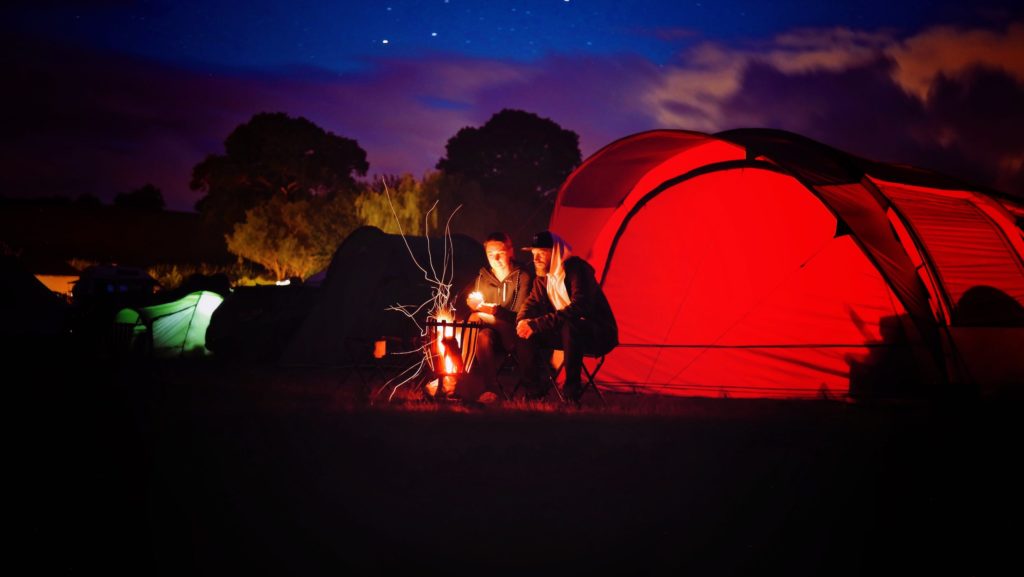 For nature lovers, there is no better way to enjoy the great outdoors than a camping trip. Whether this is with your partner, family, a group of mates or if you are going solo, camping is always a special and eye-opening experience that allows you to get back to basics and enjoy your natural surroundings. Whether it is your first camping trip or your 50th, it is vital that you have the right gear with you in order for it to be a successful, fun and valuable experience. Here are the must-have items that you will need to pack.
Tent
No points for guessing this one, a tent will be your shelter and base for the trip and it is always worth investing in a high-quality one. It is a good idea to practice setting it up beforehand so that you know what you are doing and to ensure that you have all of the parts. If sharing with a group, it is a smart idea to choose a tent which is 1 larger than the group – a 5 person tent for 4 people, for example.
Spare Pegs & Mallet
Tent pegs have a tendency to go missing or get bent out of shape so you should always carry a few spare just in case. Additionally, make sure that you have a strong and reliable mallet so that you can easily knock these into the ground.
Sleeping Bag, Pillow & Roll-Mat
A high-quality sleeping bag will allow you to be comfortable and warm, but it is also worth purchasing a roll-mat so that you do not feel the hard earth beneath you. Some sleeping bags come with a pillow but if not then be sure to pack your own for a comfortable night's sleep.
Camping Furniture
You will be spending a significant amount of time hanging around the campsite so you will want camping furniture which will enable you to relax outside. A sturdy camping chair for each camper is essential but you could also have a table for food, drinks, etc.
Cooking Materials
Following on from this, you may also want to bring along a stove, frying pan, pots and anything else that you need to prepare and eat food. Always remember to clean up after yourself and never leave any rubbish behind when you leave the campsite.
Water Bottles
You will not want to have to visit the water point every time you need a drink or cleaning water so bring along a few large water bottles which you can then fill up each morning and use throughout the day. It is important to stay hydrated while camping particularly if you are out hiking and being active during the day.
Clothing
Bring clothing suitable for all weather as you do not want to be unprepared particularly if it rains. It will get cold in the evenings so make sure that you have plenty of warm clothing and pack plenty of socks as you are sure to get through these especially if out hiking during the day.
Toiletries
Another obvious one, carefully pack your toiletries bag to make sure that you do not forget anything (particularly if you are camping with others!). Toothpaste, a toothbrush, deodorant and soap are the basics that you will need, Wet wipes are a handy item to have if there are no showers nearby. Additionally, you should pack sunscreen to protect yourself from the sun and insect repellent.
First-Aid & Medication
It is very easy to sustain any kind of injury while camping whether this is a small cut or something more serious. Make sure that you are prepared with a fully stocked first-aid kit and bring along painkillers and any other medication that you will need for the trip.
Duct Tape
Duct tape may not seem like a necessity, but you will be amazed at just how helpful this can be on a camping trip. A few of the more common uses include repairing holes in the tent, keeping certain items together and fixing a torch to a particular position.
Torch & Spare Batteries
It will be difficult to see once the sun goes down so having at least one torch and spare batteries is a must. You may be able to start a fire but you should also carry a torch, and this can be helpful when you are in the tent at night too.
Survival Knife
A high-quality survival knife will serve many different purposes while you are camping. Discover more about how to choose the perfect survival knife which will make life in the great outdoors much easier and safer.
Bing Bags
Bing bags are another multi-purpose item with a few usages including collecting rubbish, keeping dirty laundry in, having somewhere clean to sit on the floor or as waterproof cover for clothing.
Camera
You will want to remember your trip so pack a camera to capture memories whether this is when you are sat around the campsite or exploring the area. You could always use a smartphone, but this may drain the battery which could be problematic.
Entertainment
For those times where you are sat around the campsite, you will want some form of entertainment. A few good options include board games, a guitar, portable speakers, sports equipment or simply a good book. If you are in a campsite with others, then be sure to respect them and not make too much noise in the evening.
These are the main items that you will need for a successful camping trip. Venturing into the great outdoors can be daunting especially if it is your first time, but provided that you have the right kit and you know how to set up your tent then you will quickly get used to it. This is a fantastic way to unplug and get away for a few days as the feeling of being surrounded by nature and going back to basics is an eye-opening and highly rewarding experience.