The Mitten State is well known for its stunning colors of fall, seemingly endless freshwater lakes and long, cold winters — But Michigan also has some amazing secrets worth sharing. When it comes to summer, Michigan boasts some of the best weather you would find in the USA. Warm sunny days on the lake in the high 80's and cooler nights make for perfect temperatures all summer long. Weather it's a road trip adventure with friends, a romantic wine-tasting weekend, or creating memories with the family, Glamping Hub is here to share the fun with you glampers, so do not miss out!
First — Where to Stay
Where you stay in Michigan is why you stay. With stunning wilderness and lakefront views, every option you choose will be one of the very best! Before you set out on your road trip, Glamping Hub has handpicked and curated some of the most picturesque glamping getaways for your Michigan inspiration! From cabins tucked away in the trees to romatic bell tents on the water seek out the perfect location for your Michigan adventure!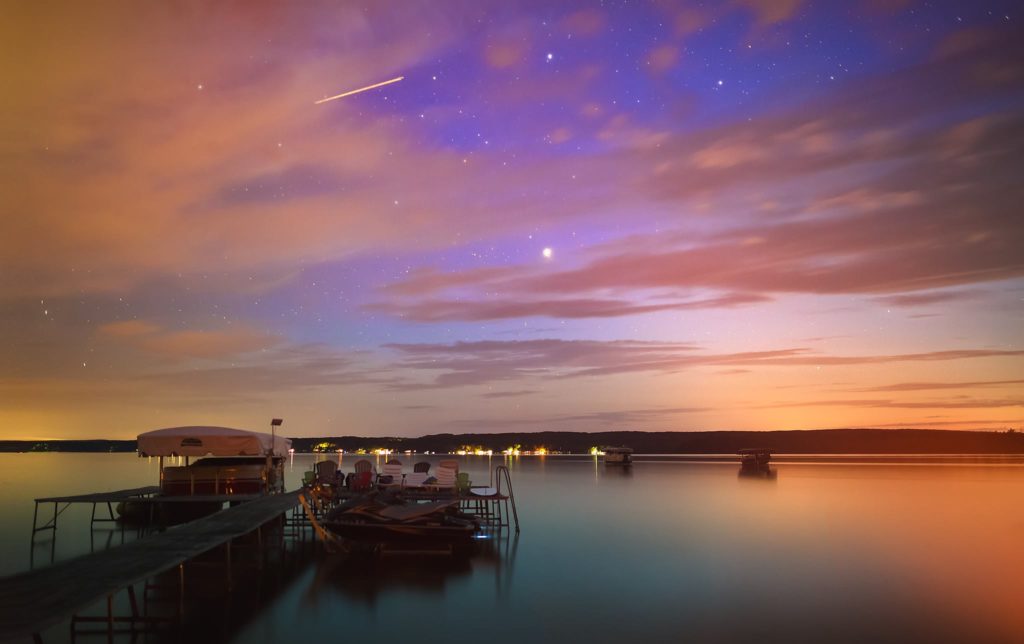 Photo Credit: Laila Lindberg at The Studio 11.11
Miles and miles of blue coastlines and white sandy beaches, Lake Huron's Sunrise Coast boats road trips that you will want to repeat again and again. From small one stoplight towns, historic lighthouses, and thousands of acres of hiking and biking trails there is something for everyone. Pack your bags and hop on US-23 for your trip up north. Most notable in summer and fall,  this slow one lane drive will take you back years in time. Small historic towns like Au Gres, Oscoda, Harrisville and Cheboygan hold tightly to the things that make them unique. From mom and pop diners that smell of freshly baked bread to antique shops with gems from way back when, you will feel as if you have stepped out of this busy life and into simpler days. At the very top of the mitten, nearly the end of US-23, you will reach Mackinaw City. If there is one day trip that you can't miss it is to the quaint island of Mackinaw. Take the ferry over for the day, rent your bike and ride the full 8 mile loop round island. With the only other transportation of horse and buggy, this little island is worth the visit. Sweet lovers will fawn over the famous Mackinaw Island Fudge, it's a must!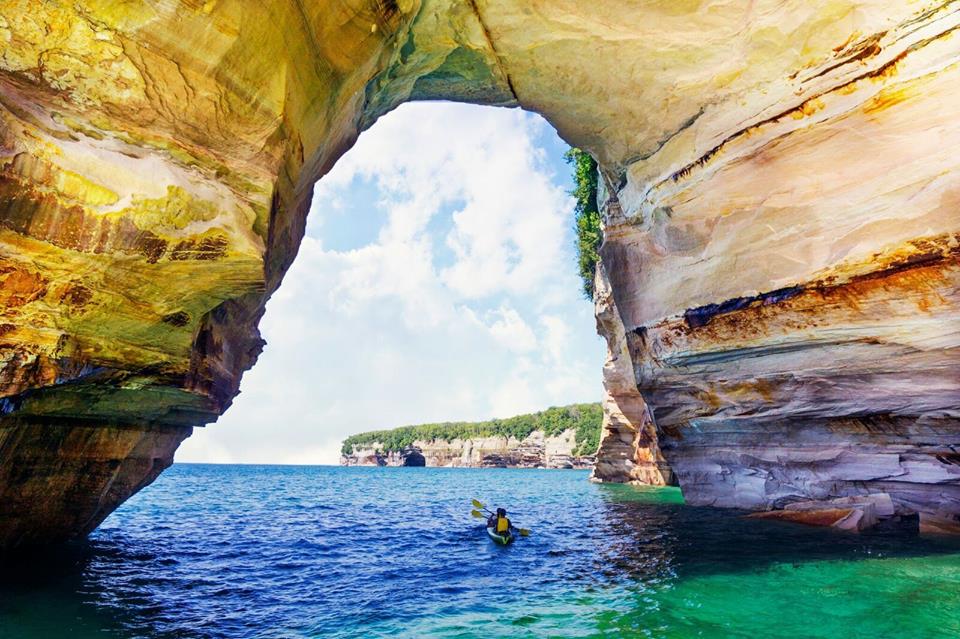 Photo Credit: Glamping Hub
Pictured Rocks National Lakeshore is one of the best kept secrets of Michigan. Sandstone cliffs extending over 200 feet above sea level line the stunning shoreline of Lake Superior in the Upper Peninsula of Michigan. Crashing waves dance across the colorful rock formations and caves offering a paddler's paradise.  No matter what time of day you choose to venture out, it is a must to rent a kayak and take to the 42 miles of pristine shorelines. Here you will be in awe of the stunning natural archways, waterfalls, and sand dunes. Looking for glamping near by? Stay in either these beautiful safari tents or yurts with your friends located right next to your kayaking adventure.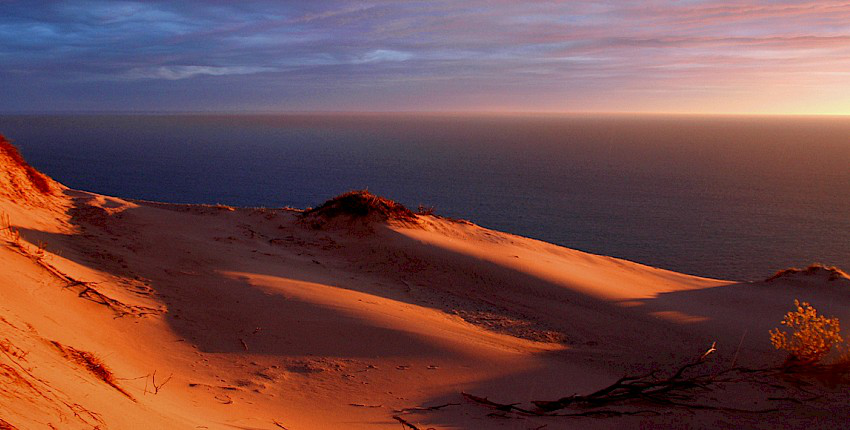 Photo Credit: Sleeping Bear Dunes Visitors Bureau
Not something you would expect to see in Michigan, just outside Traverse City are these incredible white sand dunes. Long and narrow coastlines bost some of the most beautiful and vast views you will experience in the mitten. The heart-rending legend of Sleeping Bear Dunes tells the story of how the two little islands and main dune came to be. With breathtaking sunsets, and ample activities in the area you will find yourself wishing your trip never ends. Be sure to take advantage of the local wineries near by— you won't know if you want to stay for the fresh cherries or the cherry wine.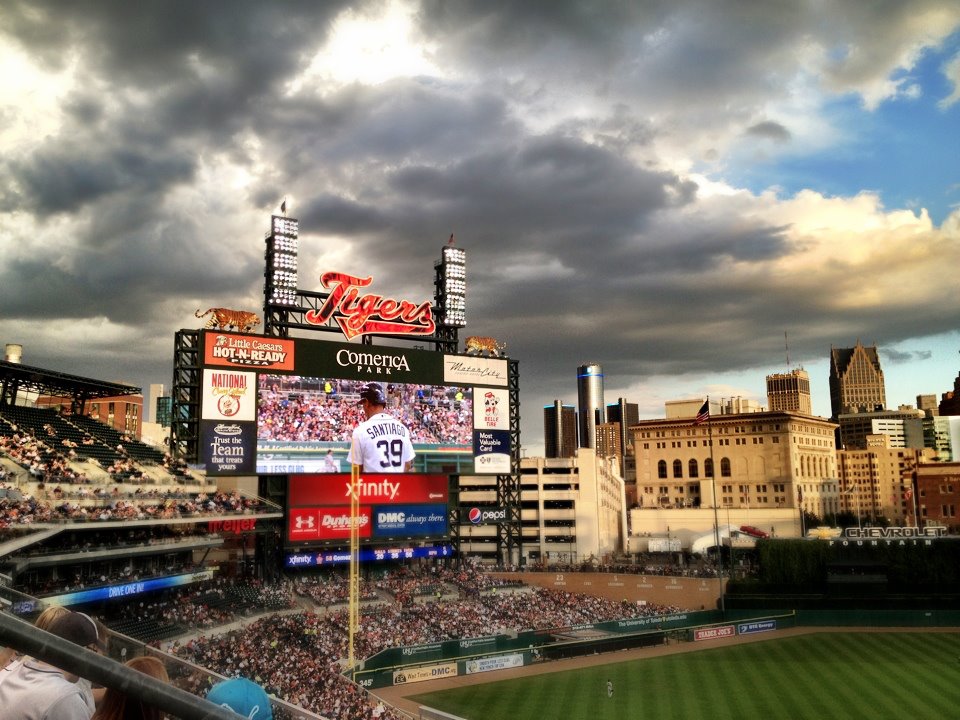 Photo Credit: Laila Lindberg at The Studio 11.11
Named by Lonely Planet as the 2nd best place to visit in 2018, the city of Detroit is up and rising! Once known for being a dangerous city hit hard from the recession, Detroit has found itself back on the map, and this time for all the right reasons. Full of trendy go-to spots like garages-converted pho restaurants and old-new warehouse distilleries there is something for everyone. With new and improved transportation, Qline Streetcar and The People Mover, detroit has become even more accessible and easy to get around. Catch a Tigers game at Comerica Park, meander the many art galleries or take a stroll down by the river', whatever you choose you will enjoy this new Detroit.
Written by: Mahealani Schuman