Vacations often begin with a click on your computer. With palpable excitement, you tend to search online for things to do, places to see, and places to stay. This should indeed be how vacations begin if you need an affordable yet enjoyable trip. For Longboat Key in Florida, which is a coveted holiday destination all year round and especially so during school breaks, start with places to stay unless you will be beaching day and night!
Beaching Day and Night
Longboat Key is one of those places where beaches are busy both during the day and at night. Its crystal-clear beaches have everyone who has ever visited the place call it paradise. Numerous surrounding beaches and resorts can make your beach outing continue seamlessly through days and nights. Beaches here are so perfect that you could do exactly what you like — have a quiet day or socialize with 50 people and make new friends! Do not forget to plan for Siesta Key, Crescent Beach and Turtle Beach. You will see lovely expanses of white sand.
Beach outings come at zero expense and surplus fun and are nature's best yet free gifts to us. You will have to buy your Frisbee, though!
Places to Stay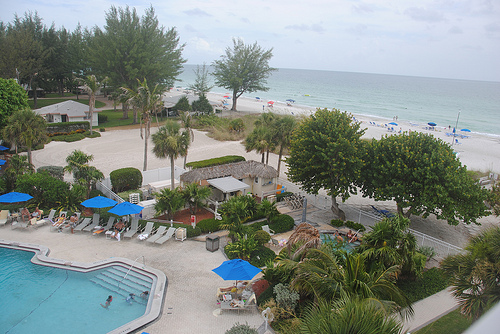 Image via Flickr by Lizard10979
You love the beach, but beach resorts can be expensive and drill a hole in your pocket. If you're on a budget, remember to book a hotel that comes with breakfast, or use "kitchenette" in your search criteria to save money. Choose places that are clean and comfortable rather than fancy. After all, you need a room only to crash at night and shower in the morning.
Must-See Places
There's so much to do for entertainment, culture, education, and more. Visit the Ringling Museum of Art, go on an art walk, or attend an opening at the galleries on Palm Avenue. You can lose yourself in the Marietta Museum of Art and Whimsy. Mote Marine Laboratory and Aquarium is a must-see to catch up on local marine life. It's fun as well as educational. Two historic buildings, the Crocker Church and the Bidwell-Wood House, are definitely worth a visit. See the picturesque scenes on Quick Point Reserve. Every sunset is worth your visit.
Don't forget your camera if you want to keep the magic of this place alive in your memory. And plan ahead so you can spend less before you begin your travel.
Things to Do
Live performances dot the area around Palm Avenue and Towles Court, so no music lover may go back without humming a tune. If kayaking is your thing, there are numerous rental places to consider. Rentals are all you need for your trip unless you already live in a beach town.
Eat local. Whatever your preferences are otherwise, when you're traveling you should surrender your taste buds to the flavors of the place. Dine out once every day, each time in a new restaurant! You can pack sandwiches for another meal or cook a meal at your hotel if you have a kitchenette.
Planning ahead and budgeting well will help you relax and enjoy your vacation in Longboat Key, knowing that you've taken advantage of affordable hotel options and free and low-cost activities. There are so many free things to do in and near Longboat Key that you can save your money to splurge where it really counts.