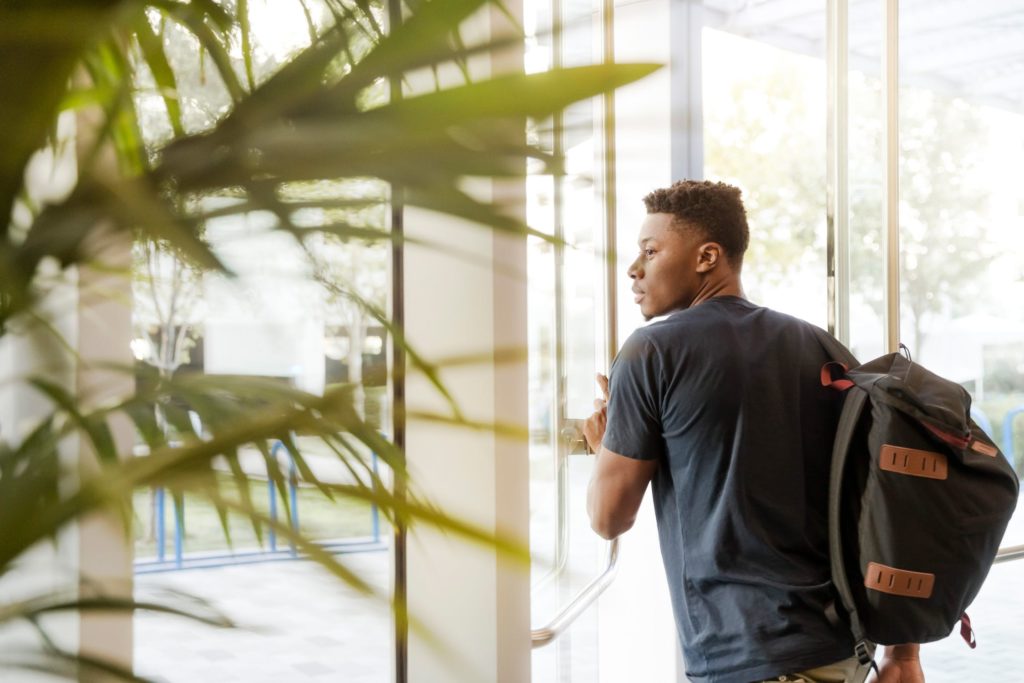 Traveling is an amazing, enriching opportunity for students. You have plenty of time in the summer, you're not yet tied down to a family or job, and you can learn so much by seeing the world. There's just one thing most students don't have in abundance:  money.
No worries – there are plenty of ways to tour around on the cheap! With a little ingenuity, a sense of adventure, and a few affordable travel tips, you can create trips you'll remember for the rest of your life.
Budget Vacation Ideas
The first thing you need is a place to stay, but there are several options you can consider for affordable accommodations.
1. Rough It
Though obvious, a quality first option for traveling affordably is just to look for cheaper venues. Skip the hotel and stay at a campground or a cheap hostel. You can stay in hostels in Paris, London, or Sydney for as little as $30 a night (instead of the $200 you'll pay at even a bargain hotel), and less popular destinations are even cheaper.
Hostels have some great benefits. Most have communal kitchens where you can store and make your own food, which saves you a ton over eating restaurant meals three times a day. Hostels also offer a great opportunity to meet new people and fellow travelers, which can be a real bonus if you're traveling on your own or in a small group.
2. Couch Surf
If you're looking for a free place to stay, check your list of friends and family – and don't forget friends of friends and friends of family. Many cultures have a relaxed view on (or even openly welcome) house guests and travelers from abroad that they've never met.
This is particularly true in Europe, where there almost always seems to be room for a gracious guest. Reach out, tell them a little bit about yourself and your trip goals, and ask if they might have room for an eager and young house guest for a few days.
There are a few things to keep in mind when staying in anyone's home.
Be a good guest.
Don't stay too long.
Be very polite.
Clean up after yourself.
Make your bed.
Offer to chip in money for any home-cooked meals – and definitelyhelp with the dishes.
Play your cards right and you may get an offer for a return visit.
3. Study Abroad
For students interested in traveling abroad for a longer period, many universities, colleges, governments, and organizations have study-abroad opportunities. Of course, you will still have to shoulder the cost of tuition and board, but just like school, there are scholarships and bursaries available. It's also much easier and cheaper to explore Europe or Canada on school breaks when you're already going to school there. Most valuable (and fun) of all, you get the chance to live in another country for six months to a year, soaking up the culture and living like a local.
4. Vacation Rentals
Travelling with friends or even by yourself, staying in vacation rentals offer the opportunity to engage with locals, tend to lend access to kitchens and amenities and are often far less expensive than a hotel.
Vacation rentals range from little shared units in Seattle to multi-bedroom vacation rentals on the Outer Banks and which type of rental offers the better opportunity will depend on how you travel and who you're travelling with. A few friends traveling together can easily save money renting a larger (and generally more luxurious) place together than each renting their own hotel room – especially when staying for longer periods of time.
5. Get a Job
If you get a summer job working overseas, not only will your travel be more affordable, it even may be cost neutral if you earn enough money to cover your travel costs.
There are several different kinds of companies that hire students for overseas work. You could teach English at a foreign school or work any number of jobs at various locations, such as a farm, a cruise ship, a national landmark, or an international resort. Another avenue is to check for government jobs overseas or investigate companies that hire students as tour guides or goodwill ambassadors.
6. Volunteer
Volunteering overseas is a wonderful and rewarding opportunity to get free room and board while contributing to a worthwhile cause, but it's vital that you thoroughly research the opportunities before you sign up.
"Voluntourism" has become big business. Some companies are charging hefty fees up front, and there even are reports that a small handful of agencies may be doing more harm than good in the countries they're servicing.
Focus your research on major international organizations that have a long history of successful volunteer work, and make sure to do your due diligence.
Getting Around While Traveling
Getting from place to place also can be expensive when you're traveling. Start by looking at cost-saving measures like rail passes, which give you unlimited travel for certain countries or set periods of time.
For example, you can buy rail passes for a single country in Europe for less than $100 that give you unlimited train trips for up to eight days. There also are rail passes that are good for multiple countries or longer periods of time.
If you're travelling with a group, consider renting a car. Sometimes, splitting the cost of a rental car and gas is cheaper than four or five people taking the train.
Sightseeing
Major tourist attractions like museums and monuments have student pricing, and many have free admission on certain days. The National Gallery in London and the National Museum in Copenhagen are free every day, although they ask that you donate whatever you can. Check out free festivals, street markets, and fairs for a fun way to explore a city and culture at no cost.
Airfare
Even though most students travel summer, the peak travel season, there are still ways to save on airfare.
Book as far in advance as possible.
Be flexible in your travel dates and times.
Look for seat sales.
Sign up on travel sites to receive notifications when airfares to your destinations drop.
Consider traveling as soon as the school year ends in late April or early May, the 'shoulder season' that precedes the summer's higher prices.
Group Travel Packages
If you have a little more money and would prefer to leave all the planning and organization up to someone else, there are many excellent and affordable student group travel packages. They typically include all your travel, hotel, and meals, and many include entry to various museums, monuments, and other attractions. Student group travel packages are an especially great option for students traveling alone, because they're tailor-made for meeting lots of people on your trip.