One of the greatest hindrances to traveling is the expenses that accompany it. Even if you are able to score inexpensive lodging, you still have to budget for food, travel, and activities. People often assume big cities are the most expensive destinations, but we're proving them wrong. Below is a list of activities in bustling Tampa, Florida, that are perfect for travelers on a budget.
Stroll Through the Florida Botanical Gardens
The completely free and stunning Florida Botanical Gardens are a short drive from Tampa. Teeming with a beautiful array of tropical flora, the gardens provide a relaxing way to spend a sunny day learning about the state's natural wonders. More than 150 species of mammals, birds, and reptiles have been documented at the gardens, making each trip exciting and unique.
Visit ZooTampa
Located in Lowry Park, ZooTampa is one of the most popular attractions in the city. With expansive exhibits, interactive feedings, backstage shows, amusement rides, and more, it is consistently rated as one of the best zoos in America. Though ticket prices are usually fairly steep, ZooTampa offers admission to both kids and adults for just $6 once a month. Visiting Tampa while this deal is active is a great way to experience a highly rated zoo without breaking the bank. The zoo is also conveniently located near many of Tampa's affordable hotels.
Observe Manatees at Tampa Electric's Manatee Viewing Center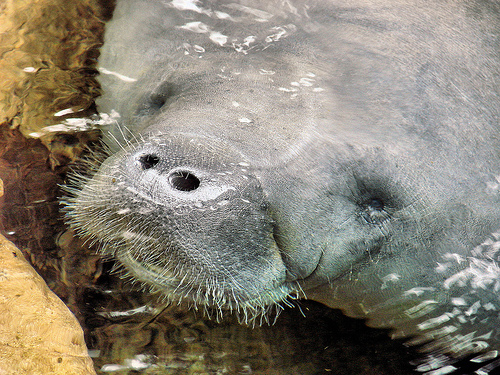 Image via Flickr by sonygirl
Free to the public from Nov. 1 through Apr. 15, Tampa Electric's Manatee Viewing Center allows visitors to observe these beautiful sea animals and learn about sustainable environmental practices. The center has a 900-foot tidal walk, part of the Great Florida Birding Trail, that winds through a canopy of natural coastal plants, trees, and wildlife. Big Bend Power Station lies at the end, where manatees have gathered to swim and lounge in the warm water discharge canal since 1986.
Tour the Yuengling Brewery
Yuengling, self-proclaimed as America's oldest brewery, offers free tours to visitors of all ages at its brewery in northern Tampa. Wednesday through Saturday, tours take place at 10:30 a.m. and 1 p.m., exploring Yuengling's modern brewing technology and facilities. At the end, those above the legal drinking age can sample their products. Soda is available for nondrinkers or visitors under 21.
Visit the Pinellas County Heritage Village
Just a 30-minute drive from Tampa lies Pinellas County Heritage Village, a 21-acre living history museum that is free to the public. Dedicated to interpreting and preserving the history of Pinellas County, Heritage Village features a variety of museums, exhibits, and demonstrations that transport visitors back to the county's origins. Visitors can immerse themselves in history viewing museum exhibits, walking the Shirley McPherson Native Plant Trail, and exploring some of Pinellas County's most historic buildings.
Contrary to popular belief, traveling and saving money can easily coexist. While luxurious resorts and attractions might be appealing, there are a number of great places to stay and visit that allow you to experience Tampa without excessive spending.