Nothing screams summer like a beach getaway! Whether you're looking to relax with a book or play in the waves, you can find the best beach for your travel lifestyle. Before you start dreaming about a Hawaiian getaway, check out these four amazing beaches across America that can provide the vacation you're dreaming about without the cost or stress of flying across the ocean. You might find that your corner of paradise is a lot closer than you realized.
Miami Beach, Florida
The warm climate makes Miami an ideal destination all year round, but visitors flock to this popular beach for the nightlife and social scene along with the beach. The South Beach strip is located less than a mile from some of the best Miami Beach hotels, which means you can play in the waves during the day and then dance all night. This is an ideal beach getaway for people who love to party as much as they love to tan.
Clearwater Beach, Florida
As the name sounds, Clearwater Beach is home to some of the bluest and clearest water in America. This beach is regularly listed as one of the top beaches in America because of its beautiful white sand and calm surf. This is a great choice for families to visit because the Gulf of Mexico breaks down waves so they're only a few inches high.
Plus, visitors can drive into Tampa, which is about 30 minutes away from most Clearwater Beach hotels. There, they can spend the day riding roller coasters and interacting with animals at Busch Gardens or meeting Winter the Dolphin at the Clearwater Marine Aquarium.
Myrtle Beach, South Carolina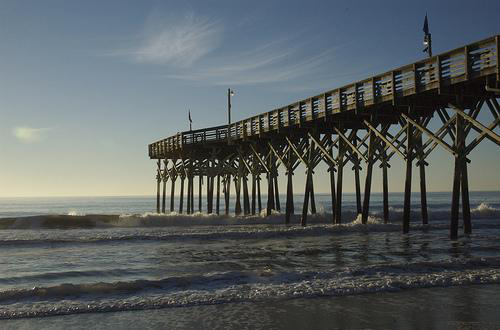 Image via Flickr by alan2onion
If you're looking for Southern hospitality and local charm during your beach getaway, consider visiting Myrtle Beach, South Carolina, on your next trip. You can find some of the top Myrtle Beach hotels dotted along more than 60 miles of beautiful beaches, which means you can find the perfect corner of paradise to relax and spend time with your family or significant other.
If you're looking for inland sights when it's time to leave the beach, take a ride on the 200-foot SkyWheel for a fantastic look at the state of South Carolina. Visitors can also enjoy the NASCAR experience at the Myrtle Beach Speedway or visit Patriots Point Naval and Maritime Museum to learn about the Navy's role in American history.
Los Angeles, California
Out on the West Coast, Los Angeles, California, is home to some of America's best beaches for surfing. Grab your board and swim out to ride endless waves with some of California's best surfers and watch them twist and turn tricks to stay afloat.
There are plenty of other tourist sites and hotels to choose from in Los Angeles. Hollywood fans can search for celebrities on Rodeo Drive or take a studio tour of Paramount Pictures or Warner Bros. Anaheim is also a short drive away for younger visitors who want to meet Mickey Mouse at Disneyland.
Wherever you decide to go on your beach vacation, make sure you book your hotels with Hipmunk. You can find comfortable accommodations at a great price to make the whole family happy.