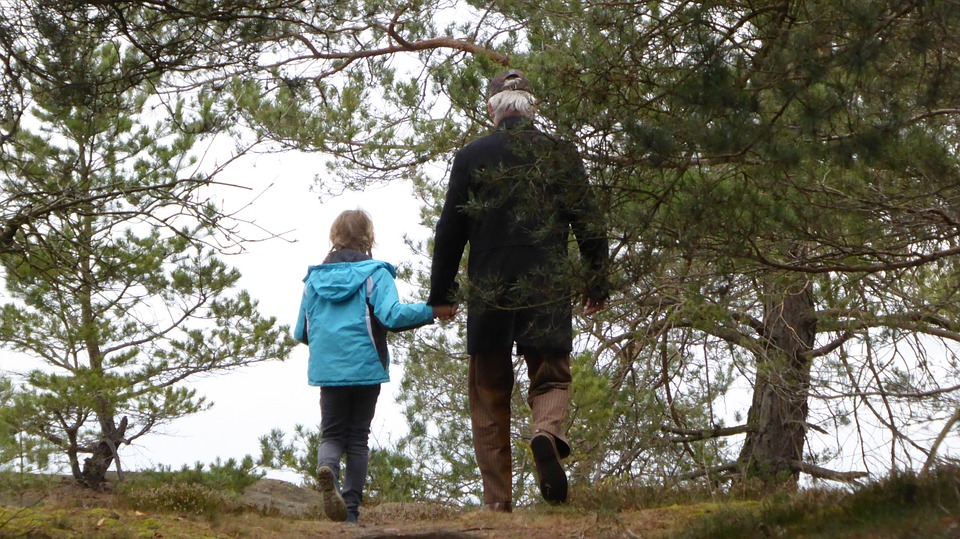 There's nothing more important than getting in touch with Mother Nature, especially if you're a kid. It helps you understand how every living being is connected with its environment, its peers, even its predators, building together a complex ecosystem. That's why we should teach children how to protect nature, and use what it gives us without disrupting it too much.
Plan a few Activities Ahead
There are a number of activities that you can do with your children when you're hiking, and it's really great if you can plan ahead so you don't run out of ideas. Plus, children are known to be really enthusiastic and it's quite difficult to catch their attention without a few activities to juggle between in case they lose interest.
1) How old is that tree?
Have children guess how old a certain tree is, and move on from there. You can teach them how you measure the age of a tree, but it also gives you the chance of discussing the importance of trees.
For instance, you can tell them that trees produce oxygen, that different animals can use them as shelters, but also that they can be used as firewood. Of course, you should explain that a new tree has to be planted when cutting an older one for fire and that there are rules in place against illegal wood cutting.
You can do a 2-in-1 lesson and use trees to teach kids about different paracord knots – use a branch or a twig to exercise the knots.
2) Nature Scavenger Hunt
Children act in two different ways when the path becomes steeper and the hike gets more difficult. They'll either want to run uphill so they can get to a resting point faster, or they start complaining and want to stop.
So, if you want to keep them interested and on track, you need an activity that helps them move at a gentler pace, allowing them to learn new things at the same time. This activity implies asking the children to collect different things they find on the trail and bringing them to you.
An interesting leaf will give you the opportunity to analyze the tree formation and the type of landscape, while a rock will be a great starting point for an impromptu geology lesson. You can take the chance to discuss the influence of the weather on the landscape, how the temperatures and humidity affect the wildlife, and how the nearby animals are equipped for life in that particular area.
3) Putting together a herbarium
This is a more extended activity, and the children should have a few useful things with them, like a bag and a pair of scissors. The exercise consists of taking as many different leaves and plants they can find, so they can ultimately place them in a herbarium.
You should explain how the trees and plants have evolved during the time to adapt to the conditions. For instance, you can discuss why evergreen trees and brush grow at an alpine or sub-alpine landscape, while lush forests are mostly found in sub-tropical areas.
You also have a good opportunity to discuss and analyze the various forms of landscape and help children understand how the soil and climate influence the vegetation. Tell them that there's a symbiotic, cyclic relationship here too: the soil itself is changed with all the dead leaves that feed it, and the climate can differ with time if more vegetation develops there.
Spend a Night on the Trail
There's nothing better for a child than to spend time in the great outdoors, really getting a taste of nature. They can admire the stars, breathe in the unpolluted air and hear the night animals. And in the morning, you can all bask in a glorious sunrise, explaining how dew is formed and why birds chirp so happily.
Of course, you'll need plenty of quality information beforehand, like the Friends of the Mountains-to-Sea Trail's guides. This website is a treasure trove of great info and additional resources, including books, leaflets, and interactive maps. The Trail Guides Publications is another trustworthy start, with a number of various guidebooks and magazines to get you started.
Have fun
That said, don't forget to have fun, keep an open mind and be prepared to improvise. And after your trip, come back here and tell us how it went, what activities you did, what the kids liked and what they didn't.
Author Bio:
Rebecca lives in USA, but loves hiking all over the world. Her favourite is Everest Base Camp Trek in Nepal. It usually takes 16 days, but she likes to slow down, enjoy mountains, company of other adventurers and take more pictures, so it took her 28 days last time. Another of her passion is the ocean, so all short and long hikes along the ocean shore bring a lot of joy. She also writes for HikingMastery.com.