Some people don't believe in spending much money and time remodeling the bathroom because, after all, it's the place where you perform some of your most intimate tasks. But this is the same reason why other homeowners prefer to outfit their bathrooms with the latest fixtures, accessories, and design trends. You spend more time in the bathroom than you may think, so investing in a beautiful design is an entirely worthwhile endeavor, particularly if you have the opportunity to splash out with a chic, modern aesthetic.
Add Artistic Faucets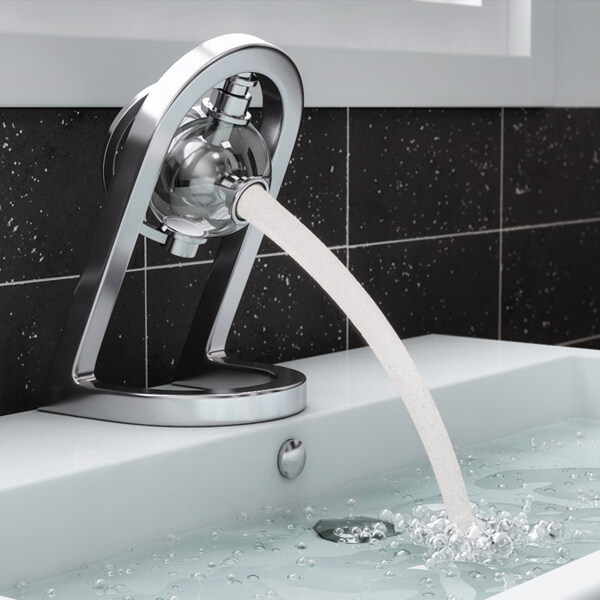 Image via Bathrooms365.com
Usually, taps and accessories gives final touches to the bathrooms and can complete your design. Adding an artistic faucet will keep the luxury feel throughout the room and serve as a focal point.
This unique tap available at Bathrooms365 features bold curved shape. This faucet is a deck mounted tap with a more modern design. The circular theme is in full effect, but the result is extra ordinary, clean, and uncluttered bathroom design.
Put Together a Monochromatic Palette
Monochromatic color palettes are always chic. A monochromatic outfit doesn't get more flattering, and while a matching color scheme won't make your bathroom appear svelte, it will look worthy of a magazine spread.
You're not limited by choices. While blacks, grays, and whites are the most common monochromatic schemes, they're by no means the only options. A rich brown palette, for example, creates a warm, inviting, and decadent space. Shades of blue, on the other hand, result in a calming, tranquil bathroom.
Add a Little Geometry
Playing around with geometry in design is always fun, not to mention an eye-popping activity. But you don't need to take this idea to the extreme. Don't start looking for a triangular sink or a toilet shaped like a hexagon. A simple mixture of sharp edges and sinuous curves will do the trick.
Keep an eye out for mid-century modern pieces. Trust us, they're still modern, and you won't find another era that combines angles and rounded edges more beautifully.
Embrace Eye-Popping Colors
What's up with bathrooms decorated entirely in neutrals? While bathroom spaces that are mainly black, white, or gray are minimalist and modern, vivid hues aren't necessarily old-fashioned. Add flair to existing bathrooms and fixtures using vibrant wall decor and accessories. However, if you're redoing the space entirely, then consider bathtubs, sinks, and toilets in unexpected colors and designs. Hot pink is daring. A mixture of yellow and blue can make smaller bathrooms appear larger, and an eclectic combination, such as blue and raspberry, can awaken the imagination.
Modern design is subjective. Depending on your preferences and aesthetic, you can discover dozens of ways to decorate a modern bathroom. Do any of the bathroom ideas here inspire you?