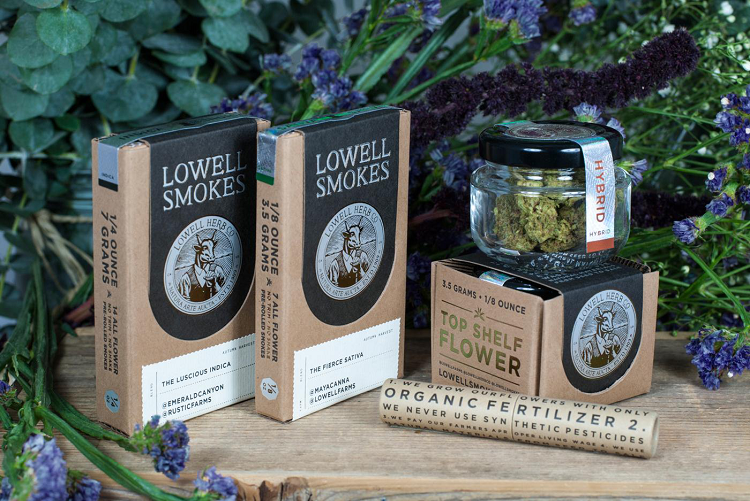 In West Hollywood, a new tri-level restaurant and weed cafe is attracting quite a bit of attention. For one, how is possible that a restaurant serving THC-infused dishes is alongside a smoking and vaping cafe? Lowell Farms had to go through considerable hoops to bring America's first cafe into existence.
Known for its popular "Lowell Smokes" pre-rolled cigarette products, the Lowell Herb Co. is opening a new restaurant that had to separate its kitchen from the rest of the building in order to accommodate California's law. The new Lowell Farms: Cannabis Cafe is the work of founders Sean Black and David Elias. The restaurant just opened up in West Hollywood to rave reviews thanks to its menu, edibles, THC cocktails, and open air rooftop dining area.
Lowell Herb Co. gained popularity in dispensaries throughout California because of its pre-rolled smokes. The packaging and sustainable cannabis farming made the company a hit with weed smokers who wanted a better product. The company uses organize fertilizers and sun-grown plants that cut down on electricity usage. The new restaurant was built with the same eco-friendly sustainability in mind.
Much of the cafe is made from reclaimed wood, and you'll be dining on reclaimed plates and silverware. The design of the tri-level restaurant is also quite unique, or else it wouldn't be able to operate in the state of California.
Patrons can bring their smokes and vapes to the cafe, and they can order dishes from the adjacent kitchen. The design is swanky and rustic with beautiful views of the city. Lowell partnered up with Mark and Jonnie Houston who founded Houston Hospitality. They have partnered up before to bring new LA night clubs to the scene, but this latest venture is in the opposite direction.
Lowell Farms: A Cannabis Cafe is a natural experience that celebrates cooking with weed while also catering to what many weed smokers have been asking for: a place where they can eat and smoke their beloved hash. The restaurant also has some pretty famous patrons, who are prominently featured on the walls. These include Miley Cyrus, Woody Harrelson, David Bowie, and Lenny Bruce.
In addition to the dining aspect, Lowell Farms plans to host several entertainment acts at their newly built venue. Some of the acts include Miley and Noah Cyrus, Jimmy Kimmel, Mark Ronson, Chelsea Handler, Diplo, and Halsey.
Lowell Herb Co. also continues to be extremely innovative with its marketing tactics for the new cafe. The company launched a smokable cannabis flower crown for Coachella, and a Valentine's Day bouquet that included one ounce of bud mixed in with the flowers.
While the cafe isn't able to serve alcoholic beverages at this time, Lowell Herb Co. is optimistic that the chain will continue to grow and offer more THC-infused menu items as laws reflect what the people want. For now, much of the food is sustainable and organically farmed, offering a unique blend of Americana with a store that sells edibles, vapes, THC-infused drinks, pre-rolled smokes, and CBD oil products.