For many years traditional stairlifts have been a vital piece of equipment in the home for so many disabled and elderly people who find using the stairs too difficult or dangerous. The days of using a seated stairlift however may be over as there is a new aid in town which has already begun to revolutionize the lives of those who do find using stairs difficult, and we are seeing it gradually becoming very popular in Canada. The home elevator is a wonderful piece of tech which improves lives and can offer great relief to many people who depend on support getting up and down stairs, and it isn't hard to see just why it is the aid of choice for so many Canadians.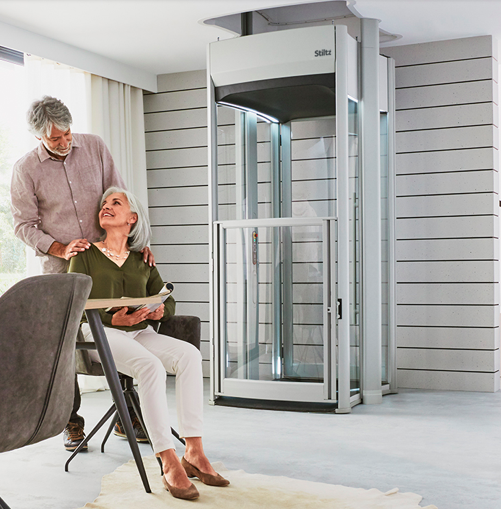 Smart Design
The technology which these elevators have is incredible and whilst installing an elevator in your home may sound like a big job, companies like Stiltz have are able to install these lifts with minimal upheaval in the home. Stiltz home elevators use advanced technology which means that no matter what style or design of the home, they can be placed without the need for tearing down walls or ruining rooms.
Attractive Price
You may think that installing an elevator in your home could run into the hundreds of thousands but the truth is that these devices are priced far lower and can be obtained for somewhere closer to the $35,000 mark. Whilst this may be more expensive than a stairlift, an elevator offers benefits which the traditional lifts cannot. The most important of these benefits when considering cost is that they will add value to the value of your home, enabling you the chance to recoup a large percentage of your investment.
Space Saver
When compared with stairlifts these elevators offer the chance to save on large amounts of space within the property. In some cases the elevators can be installed on the exterior of the property, allowing entry on all levels and not taking up any space at all inside the home.
Carrying The Load
Stairlifts are of course excellent for ferrying people up and down stairs but that is where they reach their limits. Home elevators on the other hand can support multiple people at once and can also be utilized to carry loads up and down stairs, greatly helping people to take goods and materials between floors, without putting any pressure on themselves or on the aid.
Style
Because of their smart design and their multi-functional nature, Canadian homeowners have realized that home elevators are able to also add a touch of style to the property. In the past we may have thought that in-home devices such as these would be exclusively for the wealthiest in society but with lower prices and advanced design and technology, more and more people have been able to give their home a stylish boost through the installation of a home elevator.
The future of moving between floors for many Canadians can be found in these affordable, stylish and highly functional home elevators.